Healthcare industry forum held in Arxan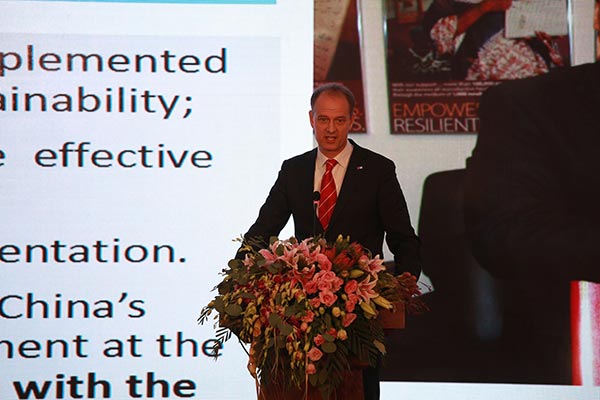 Patrick Haverman, deputy country director, United Nations Development Programme China, delivered a speech. [Photo provided to China Daily]
Dozens of experts from home and abroad recently gathered in Arxan, Inner Mongolia autonomous region, to attend the China (Arxan) International Healthcare and Snow Festival Forum. They exchanged views about how to utilize the city's rich ecology resources to boost its healthcare industry.
Su Xiulan, a professor from Inner Mongolia Medical University, suggests they develop green and healthcare food industry.
She says the city's hot springs are good for health because they contain necessary minerals and trace elements for human beings. The precious wild plants and herbs in Arxan can also be made into food and medicine.
"It's important to promote the culture of Mongolian medical practice and train more talents, who should also learn modern medical science. We should reform the ancient practice by integration with some modern medical techniques," says Ananda, a doctor who was born in a family that inherited traditional Mongolian medical practice.
Patrick Haverman, deputy country director, United Nations Development Programme China, introduced that they call for government to integrate UNDP's Sustainable Development Goals into their development plans and policies to protect the planet. He looks forward to cooperation with Arxan in the future.
Related:
Exercise on weekends may also significantly reduce death risk: Study