Volunteers help visitors to get the most from the conference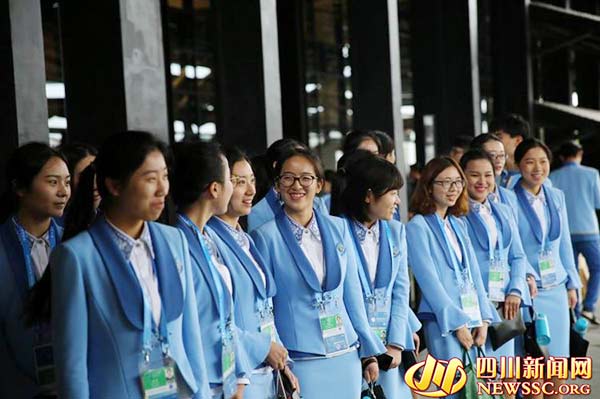 Volunteers are working at the third World Internet Conference in Wuzhen, Zhejiang province. [Photo/newssc.org]
More than 1,000 volunteers are working at the third World Internet Conference in Wuzhen, Zhejiang province, which continues through Friday.
Nearly 6,300 students from 15 universities in Zhejiang province submitted their applications within two weeks after the formal call for volunteers in September.
"We selected 1,072 volunteers - 129 of them will work at the venue, and the rest will be dispatched to the reception center, the news center, the airport and hotels," says Lu Ningning, volunteer-service liaison of the organizing committee.
According to Lu, all volunteers must be able to speak at least one foreign language.
They can provide multilingual services for 10 foreign languages in total: English, German, Japanese, Portuguese, Russian, Spanish, Italian, Turkish, Korean and French.
All volunteers have taken classes about WIC knowledge, transportation routes in Wuzhen and etiquette.
"I learned a lot through the training," says Yang Ning, a sophomore in Zhejiang University of Media and Communications.
Yang majored in public relations and worked as a volunteer in the photo center to serve reporters at the G20 Summit held two months ago in Hangzhou, about 90 kilometers from Wuzhen.
"The Hangzhou summit was an unforgettable experience," he says.
He registered immediately through the official WeChat account when he saw the notice.
Wang Yanni is a senior in Zhejiang University, majoring in interpretation and translation.