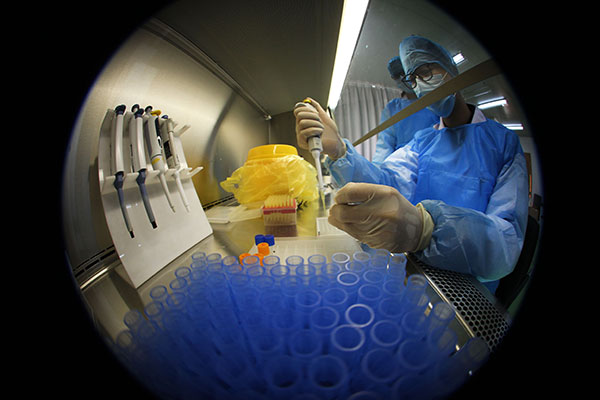 [Photo by Xu Congjun/Asianewsphoto]
Ability to work would be defined by blood test; draft amendment posted for public comment
Some HIV carriers could be classified as nonlaborers and relieved from work, under a draft amendment to national labor standards.
The draft was released on Sunday by China's top human resources authority.
HIV carriers would be classified as having lost all labor capacity if their blood CD4 count is 200 or below after systematic treatment. Patients between 200 and 400 would be classed as having lost partial labor capacity, under to the draft, which was posted on the website of the Ministry of Human Resources and Social Security for public comment until Nov 15.

The concentration of CD4, a type of immune cell, is an indicator of HIV infection. Normally a CD4 cell count is higher than 500 per cubic millimeter of blood.
The draft also includes amendments to standards that assess the labor capacity of people with some other diseases, including cancer and cardiovascular disease.
The current standard, adopted in 2002, is outdated in light of China's social security and healthcare improvements, and local authorities have been calling for a revision, the ministry said.
"The revised draft better suits China's social and economic development and its medical care technologies, and can better ensure social security rights for those who have lost the ability to work because of disease," it said.
The number of people with HIV in China has exceeded 570,000, a low proportion of the total population, but new cases are increasing rapidly among young people, including college students, according to the Chinese Center for Disease Control and Prevention.
Meng Lin, an HIV carrier in Beijing and also an open HIV rights advocate, said the draft may ensure social security for some AIDS patients who have lost the ability to work. For example, they can apply for earlier retirement and certain subsidies. But the proposed standard may also block some AIDS patients who want to work, he said.
"I'm not sure it's right to define AIDS patients with a CD4 count less than 200 as completely unable to work," Meng said. "I know a patient, who is a successful entrepreneur and still working whose CD4 has been less than 100 for more than 10 years."
"I think the authorities should try more to improve the social environment to help people with HIV find employment," he said.
Wu Hao, an expert in infectious diseases at Beijing Youan Hospital, said most AIDS patients can work normally and have a similar life expectancy to others so long as they take their medication.
"After treatment, more than 90 percent of them can maintain a CD4 count above 200," he said. "Even for the few whose CD4 count remains below 200, they can still work."