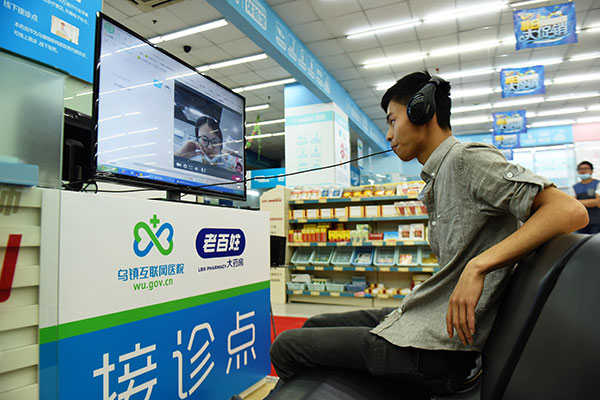 A man consults a doctor via an internet telemedicine platform at a drugstore in Hangzhou, Zhejiang province, in May.[Photo by Long Wei/For China Daily]
The emergence of e-medical platforms enables patients in China to access high-end services from across the globe. Wang Xiaodong reports.
For the past eight years, An Jianhua, a 57-year-old from Hunan province, has been troubled by a mysterious, rare ailment: When summer comes, she often sweats on the right side of her body, while the left side remains dry, causing embarrassment and distress.
"Summer has become a nightmare for me," she said. "I have to try to stay in an air-conditioned room whenever possible to prevent my left side from becoming too hot because of the lack of sweating, which could result in heat stroke. Whenever I go out, I always take a handkerchief with me to wipe away the sweat on my right side."
Over the years, An consulted doctors in a range of specialties, including general medicine, gynecology, endocrinology and psychology, but none could provide a clear diagnosis.
When she had almost given up hope of finding help, a smartphone app called Weiyi, which provides online diagnoses, helped to identify the right doctor for An's complaint.
After accessing the app, in early August An's son selected the "precise appointment" function and submitted descriptions of his mother's ailment. Within a few minutes, the system suggested Cao Xuebing, a physician at the Wuhan Union Hospital, in the capital of Hubei province, who has cured similar problems before.
An booked an appointment with Cao, and the next day she consulted him via the app's video link.
"Dr Cao said it's possible that the condition is caused by problems with my parasympathetic nervous system," she said.
On Aug 23, An traveled to Wuhan and had a one-on-one meeting with Cao, who prescribed medication.
"I did not expect the app would help me to find the right doctor so easily," she said. "Dr Cao said he will keep in touch with me via the app while I continue the medication."