Shen Kai has lived an eventful life, especially for one so young.
Just 36, Shen has worked at Google China, indeed was the firm's second Chinese employee, for eleven years and said he recruited 60 percent of the sales team for the company.
He has travelled to 105 countries and countless cities and counties in China. On top of this, he survived a plane crash, made a fortune and suffered a brutal loss in the stock market and in his spare time, of which there is precious little, he collects old furniture, watches, knives, and shoes, the last of which has now been developed into a moonlight business with a tailor-made workshop in Shanghai. His greatest achievement? Without doubt, his happy family.
Enough excitement for many lives, but he has developed a taste for craft beer, more specifically, brewing it.
Investing several million yuan of his savings and five years of his life in a craft beer brewery and a mobile application, Jiuhuaer, meaning yeast in Chinese, he is fully occupied in realizing his dreams.
"I am done with working for money," he said. "I think I have found a blue ocean of uncontested market space and want to be the first to unlock new demand. It's a challenge."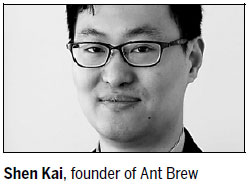 The quadruple major - finance, history, sociology and statistics - started programming at the age of 15 and was headhunted by Google at 24.
Wine, rather than beer, first caught his attention. He sampled more than 1,200 types of wine, studied 190 types of grapes and became a certified sommelier.
The type of person if intrigued by something, he will resort to everything possible to achieve his goal, he said.
But it was a sip of ale at San Jose during a business trip to Google headquarters in 2008 that brewed the idea of starting a beer business of his own.
"Baijiu is outdated," he said and "wine is arrogant and not fun."
He compared wine to a blue-blooded princess, yellow rice wine to an elegant Chinese lady in a qipao, and craft beer to a sweet next-door neighborhood girl, which essentially, people want to marry, or drink, for life.
He tasted over 700 types of craft beer before, last year, he quit his job at Google to start his own company.
"Craft beer accounts for about 20 percent of American's total beer consumption. In China, the proportion is 1.5 percent. I estimate it will grow to 8 percent within the next five years."
An appreciation of alcohol runs in the family that has been linked with beverages for centuries. His name actually stems from Shen Yonghe, China's famous yellow wine brand founded in Shaoxing, Zhejiang province, in 1664 by his ancestors.
With a team of 40 or so staff and the mobile application, launched in 2015, Shen hopes to run more than a business. He wants nothing less than to reshape national attitudes to alcohol, one sip at a time.
His app, which carries information and reviews of 1,200 types of beer, has 30,000 active users.
"There are 800 million people in China who drink. My estimation is that 780 million of them have yet to sample craft beer."
He started a 333,000-square-meter craft beer brewery in Anhui province, which produces 500 tons of beer every year under the brand he founded: Ant Brew.
"The power of each ant is insignificant. But together, they are an overwhelming force."
App users, he predicts, could grow to more than 1 million as the taste for craft beer grows. He also wants his company to go public. He believes his goals can be achieved in five years. But whatever transpires, he knows that his business sense will always see him take up a challenge. Cheers!