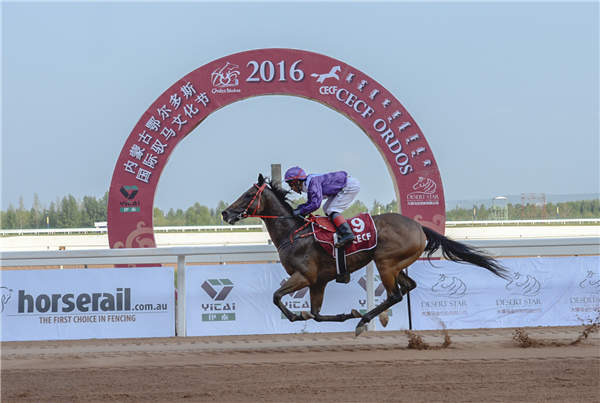 More than 30 thoroughbreds compete in the China Equine Cultural Festival in Ordos, Inner Mon-golia autonomous region. [Photo provided to China Daily]
"But the key challenge will be to keep getting better horses all the time. That was what Japan did for more than 20 years. "
The 81 thoroughbreds from New Zealand at the festival will probably be the first residents of the new breeding center.
Great expectations
Meanwhile, Warren says that the Ordos festival shows decision-makers what can be done even by a small organization.
"If the government embraces this, it could potentially become a very well-organized machine."
So far, in the Chinese mainland, the authorities' attitude to horse racing has been lukewarm as officials were worried that it could be linked to betting, but Teo says that a good race system does not necessarily promote betting.
Warren, who agrees with this view, says: "China should have its own style. So, don't copy.
"The environment dictates the style. So, you have to operate according to your environment."
He says that China needs to learn by bringing in experts from all over the world to impart their knowledge so the industry here doesn't lose time and avoids "bringing in the wrong blood".
He is also convinced that when a racing boom happens here, it will happen very fast.