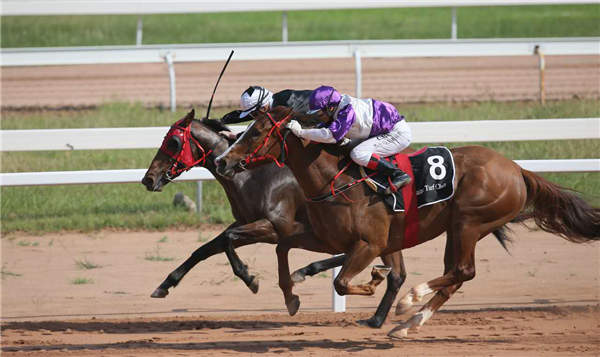 More than 30 thoroughbreds compete in the China Equine Cultural Festival in Ordos, Inner Mon-golia autonomous region. Wang Zheng/China Daily
After a long period of uncertainty, horse racing seems to be hitting its stride in China. Wang Kaihao reports from Ordos, Inner Mongolia.
When British equine industry veteran John Warren joined the advisory council of the China Horse Club in 2013, he faced plenty of doubts from his countrymen.
Even he once wondered whether the eagerness to develop the thoroughbred race industry in the Chinese mainland would "last for five minutes and disappear".
But Warren, who made his reputation as the bloodstock and racing adviser for Queen Elizabeth II and a member of the Jockey Club in Britain, now realizes how serious China's long-term commitment is.
"China is obviously new in modern-day terms, and as a consequence, everything has to be unlocked. And, things will develop ... when interested people with different types of expertise get involved," he tells China Daily in Ordos, a city in the southwest of the Inner Mongolia autonomous region.
"I've seen changes in the past three years, but I still think it's the very beginning."
Sunday saw the China Equine Cultural Festival staged in Ejin Horo Banner, Ordos. It comprised four races with more than 30 thoroughbreds. The top prize for a single race reached 1 million yuan ($150,000).
Some of the competitors were selected from the 81 thoroughbreds that arrived in Ordos from New Zealand in July.
The festival was launched by the China Horse Club in 2013 in Hohhot, the Inner Mongolia autonomous region.