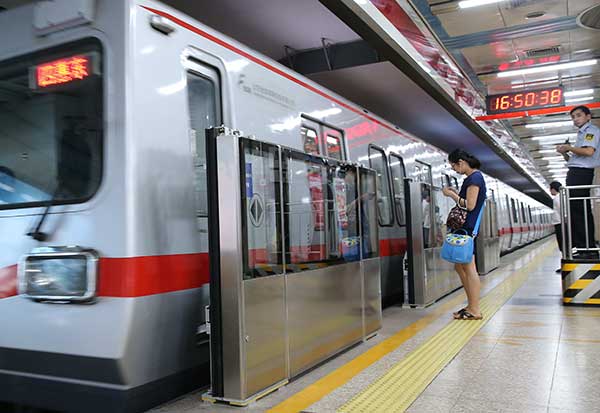 [Photo by Wang Zhuangfei/China Daily]
Safety doors will be installed in all stations on Line 1 by the end of 2017, said a man surnamed Wang, who said he is responsible for door operation in the subway.
"There have to be numerous tests before the doors are ready, both automatically and manually," said Wang, who declined to give his full name.
In April, a pilot program started at Nanlishilu Station, but the more recently-built Yong'anli Station proved that the platform could withstand the weight of the doors, so it became the first station to receive the equipment, according to a report in Beijing Legal Evening News.
But another passenger surnamed Qin still had concerns.
"I'm afraid the doors may make it difficult for people to get on and off during rush hour," Qin said.
After developing for nearly half a century, the Beijing subway system now carries more than 11 million passengers daily, one of the busiest systems worldwide.