It is an individual's freedom to celebrate or ignore any holiday. The urge to frame it too narrowly could backfire when kindred spirits with different paths see it as cultural superimposing or fun lovers keep a blind eye to its origin or nuances.
When it comes to Christmas, I always thought I would be a Grinch. I hate to prepare presents and I don't love getting one, either. Ever since I went through the grinding mill of business school in the United States, I'm convinced that the holiday is designed to ramp up sales of unnecessary and overstocked merchandise.
Recent news photos of young Chinese holding up plaques boycotting Christmas simply negated my self-evaluation: I'm not a Grinch after all. At worst I'm just another grumpy old man. It's funny I've never come across one of the protesters in real life.
According to one online estimate, some 40 percent of respondents take their side, which means almost half of those around me would hate it if I say "merry Christmas" to them. But then my circle of acquaintances and colleagues could be too cosmopolitan or globalized - atypical of the online sample.
I read somewhere that the Asian nation of Brunei has just banned Christmas, and violators will be fined up to $20,000, up to five years in prison, or both. Had Chinese introduced the same law, I guess some of the same protesters would again protest - for the simple reason that it will deprive them of one day of frolicking.
You see, the biggest complaint about Christmas is it's Western and it's religious. But any careful observer of Christmas celebrations in the Middle Kingdom will come to the realization that it has very different connotations, at least among the majority of Chinese celebrants.
Unlike the US cities in which I have lived where Christmas Eve is a time of peace and quiet, young Chinese swarm to posh restaurants and clubs to kick back. Sure, some would think of going to a church afterwards, but most sites would be cordoned off, possibly to keep away these nonbelievers who see the religious venue as an ad-hoc club for partying.
In other words, Christmas in China is essentially a prequel to New Year's Day, which, if you come to terms with it, is also a Western holiday, albeit with few hints of faith in it. Only when you use the Gregorian calendar would the New Year fall on this day.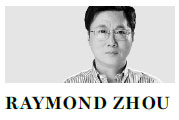 Using the logic of the boycotters, we should probably stick to the Lunar New Year since our ancestors used the lunar calendar.
If I were a Christmas purist, I would be protesting that the holiday is being sapped of its religious meaning and turned into another opportunity for impious activities.
I did not know of the origin of Christmas until recent years when I learned that nobody actually knew the birthday of Jesus Christ and that it was designated as such hundreds of years later when Christianity spread to parts of Europe and incorporated some pagan holiday. Now I'm no history buff and know even less about religions.
My first culture shock came when I greeted a friend of mine who was a devout Christian by saying "merry Christmas" to him. Rather than being pleased, he coldly replied that he and his family did not celebrate it. I tried to find out why but was deterred.
Christianity has so many sects and denominations that practices must vary from one to another, I thought. I'd better be politically correct and refrain from blurting out more offensive stuff.