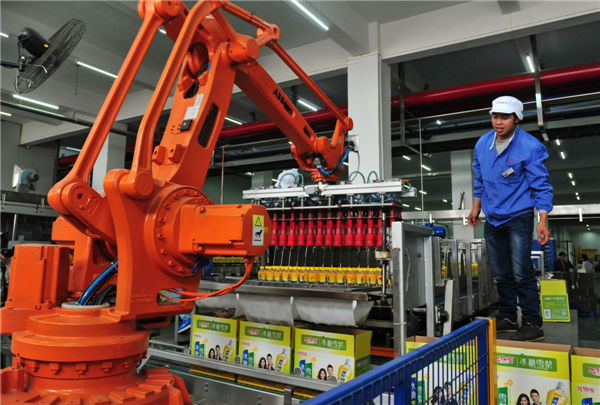 A food processing factory uses robots to package products to deal with the labor shortage in Jinjiang, Fujian province. [Photo/Xinhua] 
4. Customer services
Almost everyone has the experience of calling a company-be it bank, airline, or telecommunication supplier-and having to wait for someone to answer the phone while listening to the same piece of music over and over again.
There are still problems even after someone has finally answered the phone. They might not be able to answer your questions or they are simply slow to respond. All these experiences drive customers crazy.
With the growing number of clients for such companies and lack of customer service staff to handle incoming calls, robots might be the answer.
In 2008, Xiaoi robot was put into operation by China Mobile in Jiangsu. The robot is able to answer questions from clients via web pages, text messages and other channels.
The web page version of Xiaoi answers more than 40,000 clients a day, saving 80,000 yuan in salaries.
The robot is also capable of receiving voice commands. However, dealing with the countless dialects Chinese people speak is a tough task for these robots.
5. Lawyers
Most people believe that being a lawyer is a secure job because it takes years of study to become a qualified lawyer.
During the years of study, the lawyers-to-be memorize a large amount of regulations and analyze cases in order to prepare themselves with others' knowledge and experience.
However, what if there are robots that are designed to look for data, documents and regulations faster and more accurately than human beings? Moreover, what if the robots can predict the odds of winning a case before the client spends a lot of money hiring a lawyer?
There is already a robot that can replace part of a lawyer's job. In 2011, Blackstone Discovery from the United States started to provide a document analysis service to its clients. The artificial intelligence is capable of analyzing 1.5 million documents within several days. The cost of using such AI is less than one tenth of hiring a real lawyer. And lawyers make mistakes, robots don't.