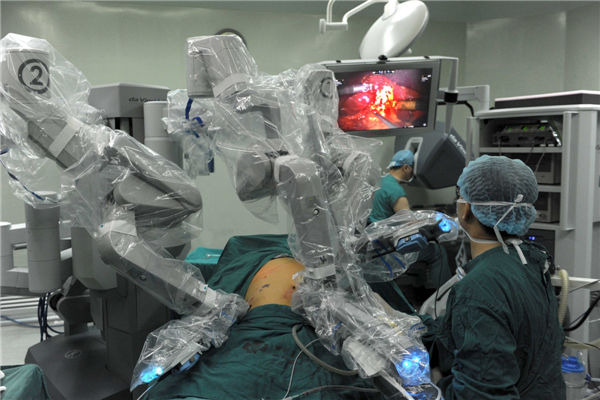 A hospital in Sichuan province uses an imported robotic surgical system to remove a patient's gallbladder for the first time in September. Photo by Yu Ping/China Daily
2. Clerical workers
Using computers, printing, copy and fax machines, it seems that robots could easily replace clerical workers. You can imagine robots handling all the paper work for their bosses.
Andrew Anderson, CEO of UK artificial intelligence company Celaton, said that clerical work will be done by robots within five years.
Anderson said that artificial intelligence could carry out labor-intensive clerical tasks quickly and automatically, while the latest models are also capable of making decisions that would traditionally be made by humans.
He said that AI could read and understand the meaning of entire documents by learning the patterns of words and phrases in context. It's this ability to learn that is reducing the need for clerical workers to carry out these repetitive tasks.
3. Waiters/waitresses
Restaurant owners all share the same headaches-customers complaining about errors made by waiters in taking their orders, slow service because the waiters are too busy, and the high cost of hiring staff.
These problems simply will not happen with robots. They are designed to provide services strictly according to the orders they have received and will never complain about being exhausted.
In a robot restaurant in Harbin, 20 robots are in charge of all the restaurant's various services. There are delivery robots, noodle-making robots and even entertaining robots.
When a customer enters the restaurant, the usher robot will stretch out its machine arms and say welcome.
In the United States, a bar-tending robot is designed to make cocktails according to their customers' mood.
Of course, before the intelligence of robots is developed so they can communicate, customer experience of robot-waiting might not be as good as human waiters/waitresses.