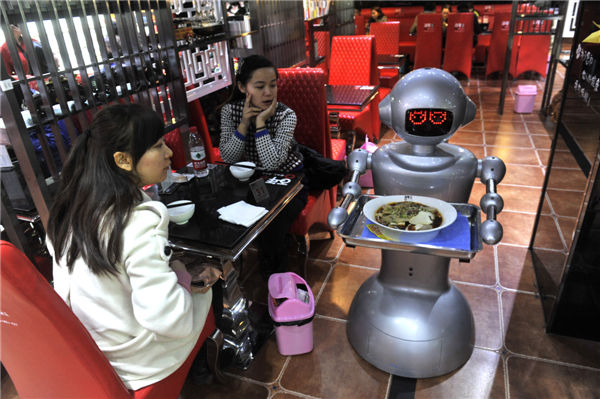 Customers are attracted to an eatery by the efficiency of its robot waiters in Chengdu, Sichuan province. Photo by Wu Xiaochuan/China Daily
The rapid growth has encouraged Chinese companies to share a slice of the market.
By the end of October, China had more than 430 companies manufacturing robots. An average of two new companies joins the sector every week.
Song said that apart from robotic workers in manufacturing industries, which account for most robot application in China, he sees a growing demand for self-driving cars, delivery drones and even robot journalists by 2030.
"Many people find the artificial intelligence in movies like Interstellar amazing. It is not impossible that they will exist in the future. By then, robots will take over many human jobs," said Song.
Since the notion of artificial intelligence became a hot topic around the world, experts started to list the jobs that are most likely to be replaced by robots.
It is no surprise to find that highly repetitive jobs are on the list, but some are beyond imagination to most of us-at the moment.
10 JOBS THAT ARE LIKELY TO BE REPLACED BY ROBOTS
1. Factory workers
Experts say that the more repetitive a job is, the more likely it is to be done by robots. Skills required in the manufacturing sectors are relatively low and repetitive. In most factories, workers could be replaced by robots because they are repeating only one or two actions every day.
While China is at the crossroads of upgrading labor-intensive industries for higher profits and efficiency, robots are the perfect choice for factory owners to replace humans, whose salaries have been rising in recent years.
Zhang Ruimin, CEO of China's leading home appliance company Haier Group, said that the company cut 16,000 staff last year. Among them, more than 6,000 were manufacturing workers replaced by robots.
"The robots can guarantee a long-time single-standard repetition of work, which is impossible for humans," he said.
And more importantly, robots will not establish a union and go on strike for more pay or less hours.