Reading iPad before bedtime may adversely impact sleep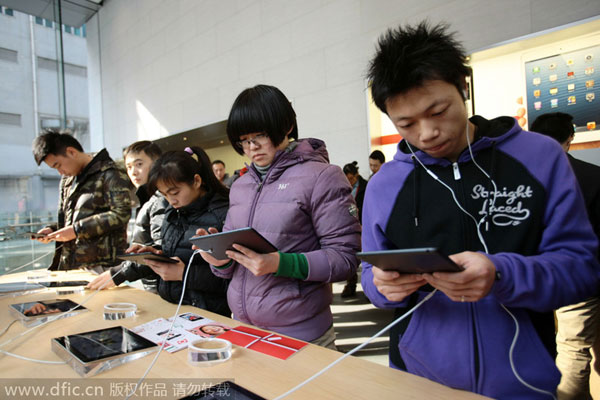 Customers try out iPad mini tablet PCs at an Apple Store in Shanghai, China, December 7, 2014. [Photo/IC]
Use of a light-emitting electronic device (LE-eBook) such as iPad before bedtime can adversely impact sleep and overall health, a U.S. study comparing LE-eBook to printed books said Monday.
The study, published in the U.S. journal Proceedings of the National Academy of Sciences, found reading an LE-eBook in the hours before bedtime may suppress release of a hormone linked to sleepiness and shift the circadian clock, an internal biological clock that synchronizes the daily rhythm of sleep to external environmental time cues.
"We found the body's natural circadian rhythms were interrupted by the short-wavelength enriched light, otherwise known as blue light, from these electronic devices," said study corresponding author Anne-Marie Chang, assistant professor at the Pennsylvania State University.
Chang and her colleagues compared the quality of sleep after participants used an LE-eBook before bed with the quality of their sleep after reading a printed book before bed.
Over a 14-day study period, 12 participants read LE-eBooks on an iPad for four hours before bedtime each night for five consecutive nights, and also read a printed book before bed for five consecutive days under similar conditions.
The study found that participants reading on the iPad took longer to fall asleep, were less sleepy in the evening, and spent less time in rapid-eye-movement sleep, the stage of sleep during which dreams prevail.
The iPad readers also had reduced secretion of melatonin, a hormone which normally rises in the evening and plays a role in inducing sleepiness.
Additionally, iPad readers had a delayed circadian rhythm, indicated by melatonin levels, of more than an hour.
While the participants who read from the iPad were less sleepy before bedtime, they were sleepier and less alert the following morning after eight hours of sleep.
"Participants reading an LE-eBook took longer to fall asleep and had reduced evening sleepiness, reduced melatonin secretion, later timing of their circadian clock and reduced next-morning alertness than when reading a printed book," said Chang, who completed the study while working as associate neuroscientist at the Brigham and Women's Hospital in Boston. The findings, however, do not apply to the Kindle eReader, which does not emit light, Chang told Xinhua in an email. "Our results showed that the reflected light (of Kindle) was similar to that of the print book, and so it is unlikely that reading on such a non-light-emitting device would have negative effects on sleep and circadian rhythms," Chang said.