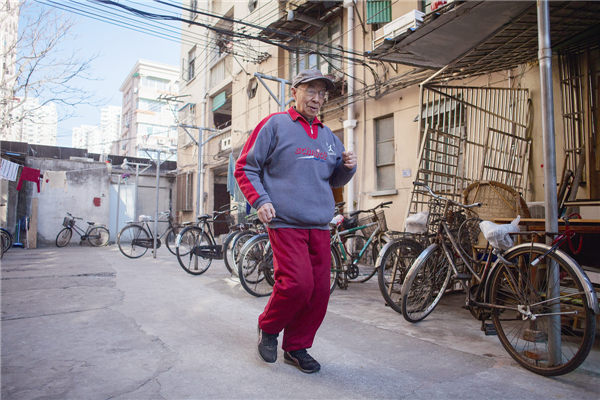 Xue Shaokang started running in 1946 and has never stopped. Gao Erqiang / Shanghai Star
At 97, Xue still runs through the streets of Shanghai at a steady pace every morning. Wu Ni catches up with the super-fit nonagenarian.
For Shanghai resident Xue Shaokang, the key to a long and healthy life is running.
The 97-year-old retired teacher has run everyday for the past 68 years.
"People always ask what I eat (to keep fit). Actually there is nothing special with my diet. The only thing I stick to is running," says the old man, whose thin frame and clear mind make him seem far younger than his age. He still speaks with a trace of the accent of his hometown in Wujiang city, Jiangsu province.
Xue lives in a narrow apartment with his 91-year-old wife Yang Lelan in Shanghai's Xuhui district. The old building does not have an elevator. But Xue climbs the stairs to their fourth-floor apartment with minimal panting, which he attributes to his running.
Every day at around 3:30 am, when the city is still sleeping, Xue wakes up to prepare for his exercise. He brushes his teeth, boils a pot of water and cooks a large bowl of oatmeal for breakfast.
After practicing a set of radio calisthenics and several warm-up movements for about 20 minutes, at around 5 am, Xue leaves the house when it is still dark. He jogs along the street, with top speed reaching about 12 minutes per kilometer.