Innocence no protection from evil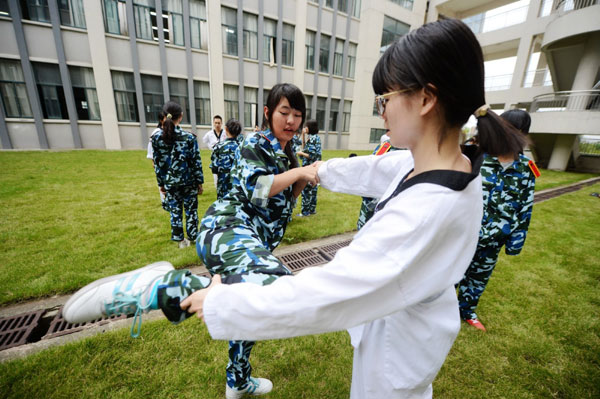 A taekwondo trainer teaches new students how to defend themselves in emergencies at their first class at Yangzhou University in Jiangsu province on Sept 18.[Photo by Meng Delong/For China Daily]
Young women in cities are buying self-defense devices and learning combat skills to ward of sexual predators after the recent attacks on college students, writes Zheng Jinran
After reading reports about several young women being raped or even murdered within a month, Li Deyue, a college student in Shijiazhuang, Hebei province, felt unsafe walking back to her dormitory at night after her part-time job.
"The alarming news made my friends and me nervous," Li says.
At least four female college students were murdered in different cities within a month while a number of young women were reported missing.
The incidents have sent a chill down young women's spine, especially those staying alone in cities, and raised security concerns.
In fact, women are feeling so insecure that they have started buying small devices designed to protect them from sexual predators. As a result, such devices are now on China's largest online market's best-selling list.
Li is one such buyer. In early September, she bought some devices, including screaming alarms and glare flashlights, on taobao.com, the largest online shopping service provider in China.
"I don't know whether they will work or not, but carrying them makes me feel a little secure," says the 22-year-old.