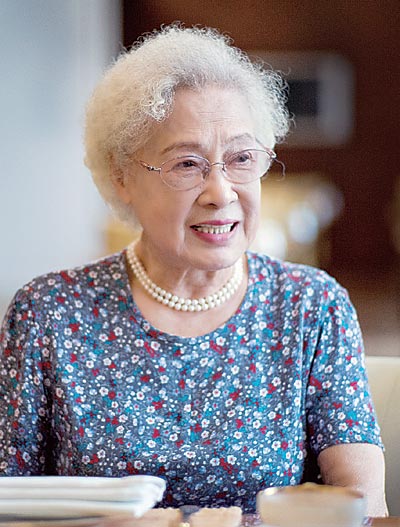 Chinese actress Qin Yi. Li Bingliang for Shanghai Star
What was Shanghai really like in the 1930s? Some of the men and women who lived through the infamous period tell Matt Hodges and Xu Junqian about life in the Paris of the East.
Qin Yi, 93, stage and movie actress
Qin Yi, something of a national treasure, is considered one of China's four great dramatic actresses from the 1940s alongside Bai Yang, Shu Xiuwen and Zhang Ruifeng. She married "film emperor" Jin Yan and says she considers Mother (1949) to be her finest work.
We meet at the Equatorial Hotel on a Saturday afternoon and she appears to be in remarkably good health and looks outstanding. She is still beautiful under a layer of white foundation and turns up wearing a blue paisley dress.
She tells us she is leaving for Qinghai next month to film her latest movie, Qinghai Lake.
The movie, which she wrote the script for and may also appear in, focuses on how two engineers, one Chinese and one foreigner, overcome problems while working together on the Qinghai-Tibet railway.
The theme of East and West working together seems in some ways to be the story of Shanghai itself.
"The technology and machines used for filmmaking in the old days were definitely not as good as they are today, but the actors and actresses were more devoted to building characters and perfecting their craft than they are today.
"One of the most prestigious places I remember in the 1930s in Shanghai was the Hongqiao Club (or Country Club, near Hongqiao Airport). According to Shanghai writer Eileen Chang, everyone tried to get rich so they could buy some land in the Hongqiao area and build a house there. The houses there were mainly for holiday use, and were adjacent to the golf courses. It was where you could find the most villas in the city.
"I was taken to the clubhouse a couple of times, even though I wasn't a member. (The Country Club house used to be a residence of Victor Sassoon). Activities there like horse riding mostly took place on the weekends.