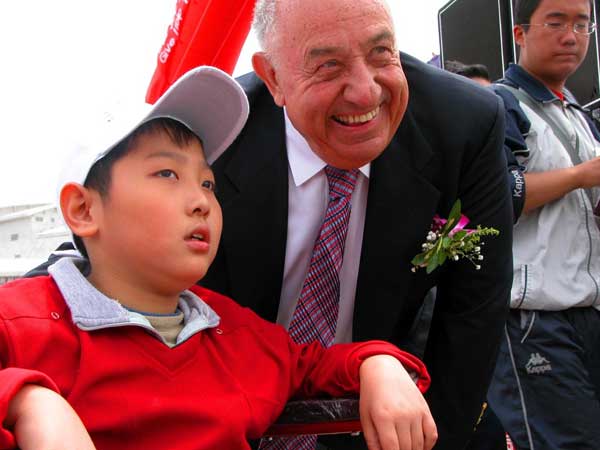 Behring with a disabled child, who sits on a wheelchair donated by the Wheelchair Foundation established by Behring. [Photo/China Daily]
The Chinese Dream | Kennethe. Behring
Kenneth E. Behring was wealthy and successful in his home country, but it was in China that he found the true meaning of life. Wang Ru reports.
Fifteen years ago, Kenneth E. Behring was the man who had everything, from a private jet to his own club in the United States' National Football League. However, despite being one of the richest 400 people in the US, as determined by Forbes Magazine, he was not satisfied with his life of enormous wealth. That is, until he had an epiphany that lead him to find a new reason for living. Now, Behring, 86, who was a recipient of China's National Friendship award in 2013 for his philanthropic work in the country, says that he has found joy and inner peace.
His work in China has ranged from donating wheelchairs and stuffed animal specimens to supporting many museums.
Recalling the moment he met Premier Li Keqiang in the Great Hall of the People in 2013, where he received the National Friendship Award, Behring says that he felt nervous but pleased to receive the great honor.
Behring was born in Illinois and his family moved to Wisconsin when he was 4. It was in Wisconsin where he started his first car dealership, selling second-hand vehicles in the 1950s.
But in the first year after Behring started his business, a snowstorm hit the town and almost destroyed his young business. He exchanged one of his cars for a snow clearing vehicle, and drove around town helping people remove snow from their front yards.