American restaurant serving up sustainable creations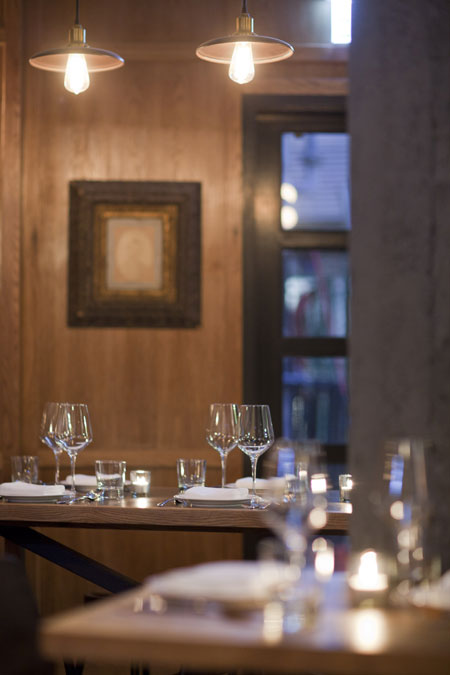 Stone Nullah Tavern offer a wide selection of premiun spirits. [Photo provided to China Daily]
When Vinny Lauria, the executive chef and partner at Stone Nullah Tavern, came over to our table toward the end of our meal to see what we thought of his New American Cuisine, I told him how I really felt.
The dinner menu, which consists of one page, is divided into six sections. But instead of the usual starters, mains and desserts, there are categories like "swine", "pickled" and "legumes, grains and pulses".
Lauria explained that he tried to bring a balance of tastes to each of his dishes, and that includes sour, sweet and savory.
He also mentioned that it is possible to get a completely balanced meal by selecting complementary dishes such as meat with grains and vegetables. Fine. But what about dishes that feature pig's head and ears as the main attractions?
"We believe in sustainability," Lauria stated. "I try to use the parts that butchers discard. The pig's ears, like the head, are soaked in brine for six days, braised and then deep fried."
He returned in a few minutes with a plate of thin crisps that were, indeed, shaped like ears. They had a pork crackling quality about them but still tasted overwhelmingly gamey.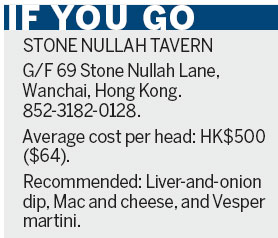 More successful was the liver-and-onion dip. Despite its bitter aftertaste, the silky smooth liver grew on me after a while.
Asparagus a la plancha with crustacean butter was also nicely done with a charred sweetness enhanced by the mildly fishy butter drizzled artistically on the plate. I liked their lengthwise cut, which helped to absorb more of the natural oil and sauce for maximum flavor per bite.
Mac and cheese was served with a raw egg yolk in the center and a sprinkle of chives that got mixed in front of us at the table. It was rich, decadent and oozing with cream - every bit of the homey comfort food that it promised on the page.
The pork brisket special of the day, unfortunately, tasted like every ounce of flavor leached out into the liquid that it was prepared in, making it tender but bland.
Grilled prawns could be fresher and larger; these factors were heavy strikes against any enjoyment of them.
Plates are on the small side, and it is best to bear in mind that this is a watering hole first. The drinks menu is substantially heftier, with a wide selection of premium spirits, such as eight-year-aged Wild Turkey.
I liked how the spirits were organized along with featured cocktails starring them, and there were plenty of choices for those, too.
Despite looking fantastic, the hard surfaces of wood wall panels and concrete floors did nothing to dampen sound. Toward the end of the evening, we could barely hear each other despite shouting. If I return, I will remember to try a few more cocktails - that is, if I'm prepared to lose my voice again by the end of the evening.