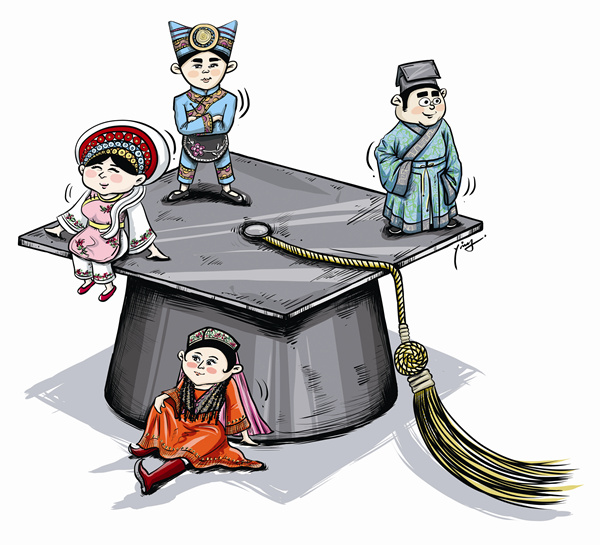 [Photo by Wang Xiaoying/China Daily]
Clothes make the man and preserve tradition as well. When we use clothing to connect to the past, it is important not to let it divide us in the present.
A recent graduation ceremony made news not because of who made the speeches or what was said, but because of what everyone present wore.
The event at Jiangsu Normal University drew the nation's attention when photos surfaced online of the graduates, their teachers and even invited guests, including officials from the Ministry of Education, donning the traditional garb known as the Hanfu.
My first impression was that the Hanfu, which literally means Han clothing, bears a vague resemblance to the traditional Western graduation outfit, with its black gown and square academic bonnet.
I'm sure most Westerners would have viewed it as a Chinese variation of Western style.
But the Hanfu dates back a couple of thousand years. The "Han" in Hanfu refers to the Han people, the largest ethnic group in China, which accounts for around 92 percent of the country's population, and some 19 percent of the entire global population.
What the Han people wear today is not very different from clothing styles in most other parts of the world.
We tend to put on a Western-style suit on formal occasions.
A grassroots movement to revive the Hanfu, active in certain quarters, is an effort to assert Han people's ethnic identity.
So why can't we dress like our ancestors for weddings and funerals, and graduation ceremonies for that matter.
The envy is more poignant when you look at China's other ethnic groups and their colorful clothing, constantly on display in television galas.
I'm a Han but I've never worn Hanfu. I don't even have any, nor do any of my family members.
But I can totally understand the pride and the urgency of some of my fellow Han people who have jumped onto the Hanfu revival bandwagon.
Although the Hanfu is generally not as elaborate as most of the formal wear of our other ethnic groups, it is part of our legacy and it is an honorable thing to preserve it, especially in this age of globalization, when people in every corner of the world move in the same sartorial direction.
But as with any movement, any change to conformity, no matter how well-intentioned, inevitablely throws up different opinions.