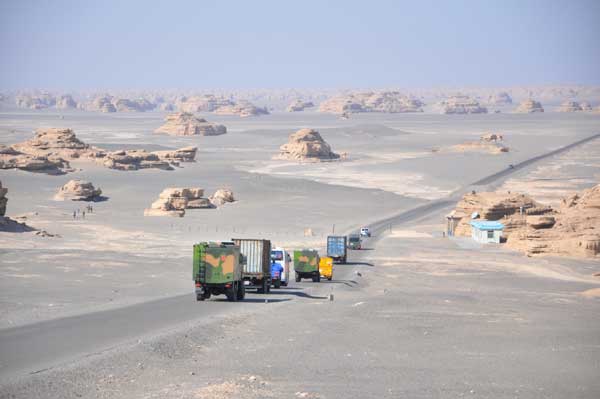 Researchers head to a desert, China's most moon-like place, in Gansu province to test Yutu, the country's first lunar rover. [Photo provided to China Daily]
The designer of China's moon rover looks back on a project that, while full of challenges, was able to nurture his wildest dreams. Yu Fei and Yu Xiaojie from China Features talk to the proud scientist.
Jia Yang, 44, has two children. One goes to a middle school in Beijing; the other is on the moon. The trials of parenthood have been far more arduous with the second child for Jia, deputy chief designer of the Chang'e-3 lunar probe, who led a team to develop China's first moon rover, Yutu, or Jade Rabbit. Chang'e-3 launched on Dec 2, 2013, landing on the moon after a two-week voyage, becoming China's first soft-landing on an extraterrestrial body. On Dec 15, Yutu rolled out onto the lunar surface. The rover and the lander took pictures of each other for the family album.
After dedicating 10 years to the project, Jia described his feelings as "bittersweet" - a feeling that lingers even after China declared the mission a "complete success".
In January, Yutu suddenly stopped moving when engineers on Earth were controlling it one morning.
Jia was torn with anxiety as he and other experts struggled to solve the problem, sleeping fewer than two hours each day.
As the "moon night" - about 14 days on Earth - approached and temperatures began falling toward minus 180 C, the rover was supposed to stay in a power-off mode, with the solar panels folding to provide insulation.
But the solar panels didn't fold.