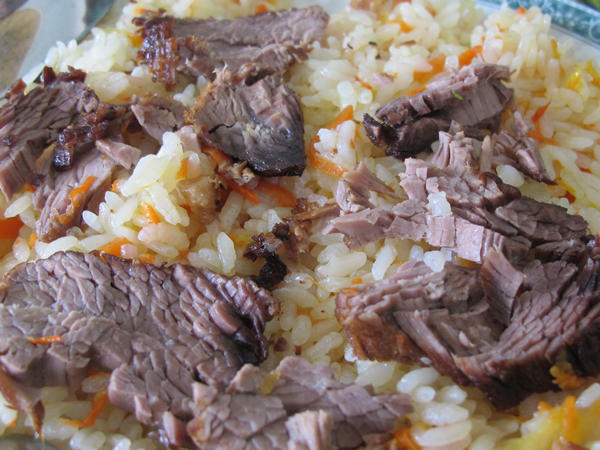 Pilaf is made of oiled rice, studded with carrot bots and grilled lamb. [Photo by Mike Peters/China Daily]
In eastern and southern cities in China, Xinjiang restaurants come in many packages. Some are quiet chuan'er (kebab) stands on the street. Some are tourist traps with a floor show and dancing and yard-long beers that can seem like a Uygur fraternity party.
Somewhere in between is Crescent Moon, tucked into a capital alley. It's not about convenience or a show, it's just a pleasure to eat there.
While it's far more than a chuan'er stand, that doesn't mean it has a soul above kebabs: One review calls Crescent Moon "the king of kebabs", and no wonder. Skewered onto steel cutlery the Three Muskateers might appreciate, the hearty chunks of seasoned meat are leaner than street chuan'er, with just enough fat to keep the grilled meat juicy.
That promise is magnified in the leg of lamb, presented whole and then sliced up into bigger-than-bite-size chunks, each rosy with spices, so you can test the succulence with a knife before savoring it between your teeth. That may sound highfalutin for a simple plate of roasted meat, but the best chefs say their supreme art is doing simple things superbly.
If there is a problem with Crescent Moon's lamb, it's deciding between too many good options.