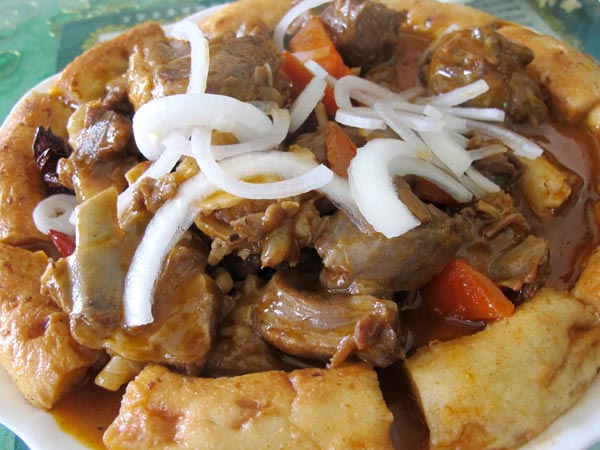 [Photo by Mike Peters/China Daily]
If you're not driven there by total carnivorous lust, the tastiest option may be the pilaf, the lightly oiled rice from the countryside, studded with colorful carrot bits and slices of grilled lamb. We never fail to order the big plate, and take away half of it for tomorrow's lunch.
Other traditional dishes include fried lamb with bread, and a popular chicken, potato and bell pepper stew (dapanji) served over a big round of the pizza-like Xinjiang bread. Whichever you choose, the homemade yoghurt is not to be missed.
Like most Xinjiang restaurants, this is a Muslim eatery with a tolerance for alcohol. The Sinkiang black beer is a favorite, a fresh barley brew that's more quaffable than Guinness and such. (There's a yellow version, too.) 
Our sampling of the red wines on offer from China's west, on the other hand, have been disappointing so far - but we confess to experimenting with the inexpensive end. The result was distinctly unworthy of the rustic but otherworldly lamb.
The restaurant is clean and the green-and-white decor is charming, with its ornate tea urns and jeweled wall hangings. The Xinjiang music is lively but stays in the background - you can have a conversation without having to shout over a floor show.
And despite boo-bird grumbling in online reviews - the owner is sometimes described with more asterisks than words - the service has been consistently friendly, pleasant and reasonably attentive on our visits.
Menu pictures are excellent, so there's little risk if your best language in China is pointing. Generous portions at a reasonable price make Crescent Moon a good choice to take visiting groups of friends for an authentic Chinese experience that's (just a little) off the beaten path in Beijing.
If you go
Crescent Moon
16 Dongsi Liutiao
010-6400-5281
Average cost per person: 50 yuan.
Recommended: Grilled Leg of Lamb, Da Pan Ji (chicken stew), Homemade Yoghurt, Chicken and Lamb Kebabs.