Buddhist temple provides elderly care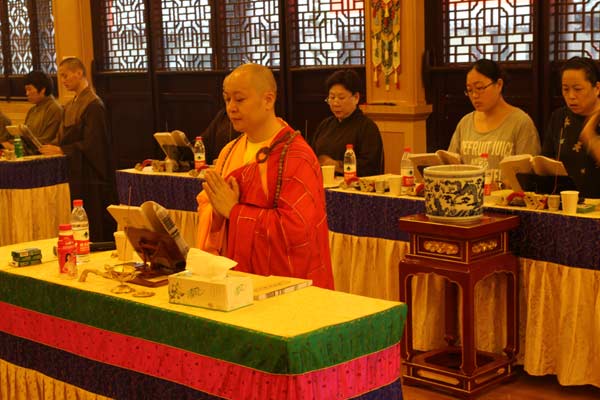 Shi Youyuan (front), head abbot of Guangde Temple, leads lay Buddhists to worship. [Photo provided to China Daily]
By then, it expects to offer a more complete package of care, including nursing, mental health and even hospice facilities.
Shi Youyuan, head abbot of the temple, says it is the temple's responsibility to provide a peaceful environment for its believers that are in need.
"In Buddhism, a happy ending is one of the two most important things in one's life. Therefore, we value the quality of our believers' twilight years. We hope, with our service, more elderly can find peace during the last years of their lives," he says.
Hidden in a small village within Ninghai county, Guangde Temple is far away from any modern city's hustle and bustle.
Surrounded by woods and a river, the temple is an oasis of tranquility for its residents.
Chen Yongge, an expert with Zhejiang Academy of Social Sciences, says that beyond providing the peaceful environment, the temple plays a key role of delivering spiritual comfort to elders as well.
"People tend to neglect the mental health of elders, only thinking about their physical needs. Nursing homes in temples can provide spiritual comfort to them," says Chen.
Weng says that when she came to the temple 13 years ago, she was so sick that doctors said she would not live another year.
With a strict vegetarian diet, care from volunteers, spiritual counseling by the abbot and a quiet living environment, her health has become much better.
"I used to be a heavy burden to my sons when I lived in a hospital. Now I am healthy and they can visit me whenever they are available. I think it is the best choice for us," she says.
Shi says that establishing a nursing home for elderly people serves the purpose of integrating Buddhism into Chinese society.