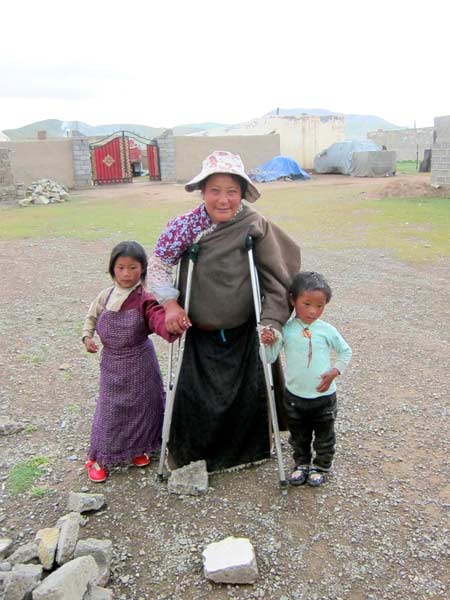 Disabled nomads face the gravest challenges accessing healthcare in Yege township, in Qinahai province's Yushu prefecture. [Photo by Erik Nilsson/China Daily]
Three of Yege's roughly 200 children died of fevers within the past year. That's despite the fact that since 2011 three clinics have opened and an actual doctor arrived-one of three healthcare providers with a medical degree. The nomadic Tibetan township's healthcare has progressed dramatically since it first short-lived pharmacy closed in 2011. Yet local healthcare remains underdeveloped. Three years ago, a young physician started the first clinic, offering about 100 Tibetan remedies. Another 5 percent were Western medicine.
His most advanced instrument was a stethoscope.
But his business produced huzzas from the 2,000 remote yak-herders in the township in Qinghai province's Qumalai county. However, he left within a year. He felt Yege to was remote and rustic.
"It's hard for me to get used to life without fruits or vegetables," the clinician, Chaoguo, told China Daily in 2011.
The new public clinic's stock is 85 percent Western and 15 percent traditional Chinese medicine.
"The health situation wasn't good when I arrived," says Quezhubtsering, who has headed the public clinic since 2011. (The other two clinics in the township are smaller and private.)
The 31-year-old, who like many Tibetans has only one name, arrived in December 2011.
"Most local health professionals weren't qualified," the doctor says.
Quezhubtsering says his department has given examinations and offered medicine to 80 percent of locals.