Gambling takes away simple joys of golf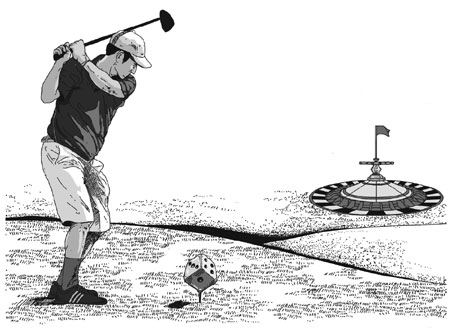 [Photo by Li Feng/China Daily]
It is as pervasive a practice on Chinese courses as it is in the West, Bai Ping writes.
While it could be a decade before a Chinese golf pro breaks into the top ranks of the game, many amateurs may have already shot the major leagues in another competition - gambling.
On courses in Beijing, players are sometimes exasperated by meticulous Japanese or Koreans who painstakingly study the lie, practice swings or line up the putts. But more often, local gamblers are the main culprits behind agonizingly slow play. They can easily stretch a round to six hours.
Like in the West, gambling on the course is a pervasive practice in China. Some unofficial surveys show that the majority of Chinese players with more than two years of golfing experience have wagered on the course.
However, Chinese golfers, who are estimated at more than 1 million and their numbers are growing, have taken gambling to the next level in terms of stakes involved. When betting on the lowest score in a hole or a round, the two most popular gambling games, pledges could range from 50 yuan ($8) per shot to thousands for a round.
As gambling in China is often intricately linked to corruption, bets can also be used as bribes in disguise. Once I played with three bankers from a sooty northern province. On the green, while one of them was preparing to tap a short and easy putt, I heard a buddy say: "I'll bet you an 18-year-old tonight (if) you miss this one."
It may still be true that playing a round of golf can be a great opportunity to socialize with the elite. But one needs to familiarize oneself with gambling first, not to mention that decent golf skills are essential, too.
Before I broke 100 a couple of years ago, I had played at the mercy of gamblers of different ages and professions. Sometimes they allowed me to skip the hole when I played as a single. Sometimes a caddie would help find open holes for me. Rarely would they let me tag along, as the gambling club only welcomed low and mid-handicap golfers.
But although my game has improved much since then, I still find myself playing with strangers. It is difficult for me to be accepted into the circle after I turned down suggestions from partners to place small bets on a round or two.
I am mainly averse to gambling because I have never been the competitive, cool and collected athlete. The harder I try to win, the worse I am at a sport, letting loose my inner demons. But when I let go off the need to win, I play much better.
Besides, cheating is rampant on local courses. Caddies often encourage players to move their ball to a better position or to avoid an obstacle in its path. Competitors are leery of each other to ensure everybody plays the ball as it lies.
It could also be unnerving when you gamble while players and caddies wait behind anxiously. Sometimes they chant kan qiu or "watch the ball", in the same mean spirit as Rodney Dangerfield's character in Caddyshack, who shouted: "Let's go, while we're young."
While Chinese laws prohibit illegal gambling, wagering at golf clubs has yet to appear on the police's radar. Golf has long been perceived as the favorite pastime of people with big money in China. It would take imagination to picture golfers as mahjong players and courses being turned into gambling dens.
Golf is a metaphor for life. But gambling spoils the many good things it stands for. As for me, what's the joy from the sport if I constantly buckle under stress, because someone wants to make it more interesting?