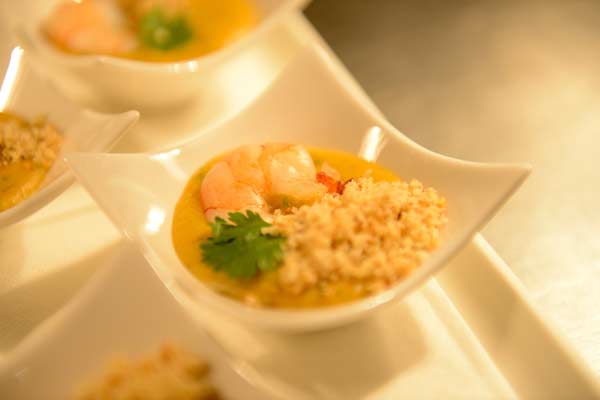 [Photo by Bruno Maestrini/China Daily]
"We serve it with bok choy to honor the Chinese culture here," says de Carvalho, "and add some orange segments to cut the fattiness of the pork."
The result is melt-in-your-mouth amazing, as is our favorite among the appetizers: pastel de rabada, slowly braised oxtail with red wine, crispy "pastel" watercress and garlic pesto.
Besides the feijoada, diners choosing a main course can opt for moqueca (pan-fried sea bass served in banana leaf with a hint of coconut milk and ginger sauce, served with whole fried banana, toasted manioc flour and steamed rice), or pato no tucupi (pan-fried duck breast with creamy rice and an Amazon-style tucupi and jambu vinaigrette).
The mains are generous enough to leave us content and still leave room to heed our sweet tooths. My dessert fave was a lightly sweetened peanut mousse with crumbled pe-de-moleque, 80-percent cocoa and cachaca ganache; I may never think about chocolate the same way again.
Schramm's recommendation to follow the pork belly, however, is lighter: yoghurt and coconut milk foam served with mango and passion fruit coulis in an elegant martini glass.
"Since 2009, China overtook the United States to become Brazil´s main trade partner," says Brazilian Ambassador Valdemar Carneiro Leao, adding that the food festival goes beyond trade flows to culturally connection "two societies that are eager to better know each other."
IF YOU GO
Brazilian Food Festival Through May 25, lunch and dinner Village Cafe at Opposite House 11 Sanlitun Lu (Road), Chaoyang district 010-6417-6688