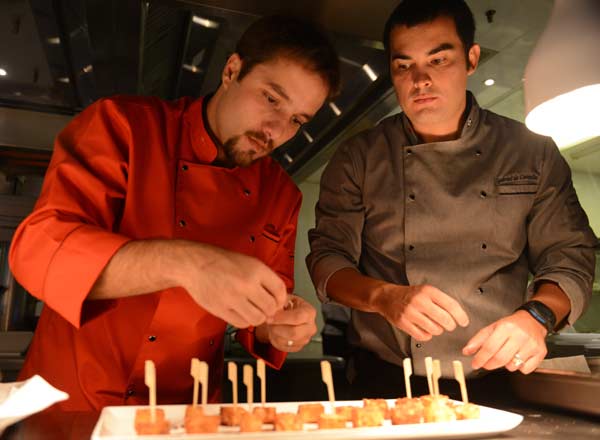 Elia Schramm (left) and Gabriel de Carvalho prepare a fried-cheese tray. [Photo by Bruno Maestrini/China Daily]
Soccer fans around the world are on pins and needles as next month's start of the World Cup in Rio approaches.
The Brazilian embassy and the Opposite House hotel in Beijing are celebrating with their forks. Two renowned Brazilian chefs, Elia Schramm and Gabriel de Carvalho, are cooking up a storm in the Sanlitun area hotel though May 25.
Schramm, 30, whose career has taken him to fine-dining kitchens around the world, has been fascinated by the cultural differences he's experienced on his short visit. "Chinese people think so differently about everything, it's fascinating," he says.
While he's demonstrating cooking techniques that are slow and subtle, he's watching his Chinese colleagues prepare "amazing dishes in a wok — very hot, very fast — bang! It's done."
If Schramm and de Carvalho's approach is slower, the results are well worth the wait. Consider the star entree, feijoada, the pork-and-black-bean stew that's a classic in Brazil. The visiting chefs promise "authentic Brazilian dishes, reinterpreted freely", and we suspect their mamas might be amazed at their elegantly presented version: A gleaming, crisp block of pork belly glazed with caramelized brown sugar in a pool of black-bean puree.