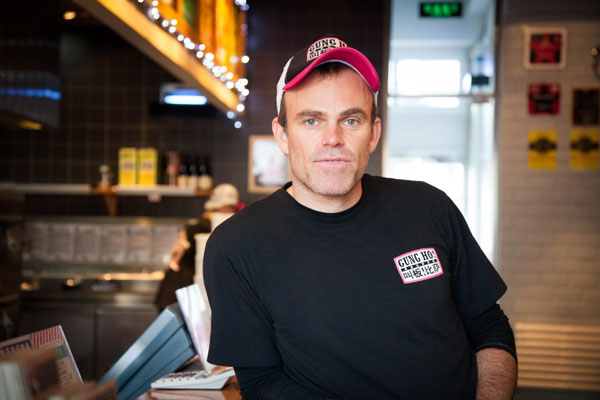 New Zealander Jade Gray, an entrepreneur at heart, has set up several ventures in China, including Lush Cafe/Bar, Pyro Pizza, the party brand Yen as well as Gung Ho Pizza. [Photo by Cao Huan/China Daily]
In his 15 years in China, New Zealander Jade Gray has worked as a ski instructor, owned a fitness center, run a nightclub, launched a pizza company and been program manager on a farm.
As part of that farm gig, he put about 300 cows onto a 747.
"New Zealand has an agricultural economy," he says with a grin, "and there was a joint venture in Tieling with the local government. So we set up a cattle farm, and I lived on the farm in the development zone, in a small village, for about 12 months.
"The hardest thing was being the only foreigner there and not having the chance to speak English, really, for a year!"
Northeast China has been a big part of his life, he says.
"I've made a lot of sacrifices. I came as a young guy, left a lot of friends behind. Others went to places like Sydney, London, New York - places that are culturally closer to New Zealand. But I chose Beijing and China. That immediately put me in a kind of isolated situation, but obviously that's part of my character. I enjoy frontiers and adventures. If you want to have adventures in life, sometimes you are going to be by yourself."
If Gray was a loner when he first arrived, however, he's much more social today. In his current role as co-founder of Gung Ho Pizza in Beijing, he works the room like he's running a high school pep rally, exhorting and energizing his crew.