Note from New Zealand: Hobbit locations are real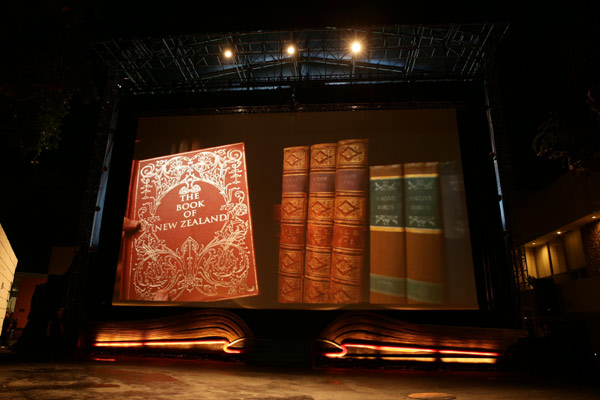 New Zealand unveils a giant multimedia "book", The Book of New Zealand, at the Beverly Hilton Hotel in California, on Dec 2, 2013. Photo provided to chinadaily.com.cn
Movie locations used in the blockbuster trilogy The Hobbit, are real, not computer-generated. And to prove it, New Zealand recently unveiled a giant multimedia "book" at the Beverly Hilton Hotel in California.
The idea is to use a pop-up book motif to illustrate the country's significance in the production of the movies.
The Book of New Zealand, as the exhibit is called, shows audiences that all those picturesque Hobbit backgrounds actually exist in the country.
With a height of 15 meters and weighing about 30 metric tons, the huge open book covers an area nearly the size of two tennis courts.
Materials for the installation were transported from Auckland to Los Angeles, and several months were required to complete the construction.
The Book of New Zealand presents four filming locations and four actual film sets from the highly anticipated movie The Hobbit: The Desolation of Smaug, which premiered in the United States on Dec 13.
The film sets are Hidden Bay (real-life Turoa, Ohakune), Forest River (real-life Pelorus River, Marlborough), Lake-town (real-life Lake Pukaki, Mountain Cook) and Beorn's House (real-life Paradise Valley in Glenorchy, Queenstown).
Visitors can step into the giant book to start a magical journey with the actual sets.
Above the book is a projection screen, showing various images of New Zealand scenery that are associated with the films.
According to Tourism New Zealand's Chief Executive Kevin Bowler, the exhibit aims to make New Zealand a must-see tourism destination, as well as a great place to make films and do business.
Thanks to The Hobbit, more to New Zealand to explore the shooting locations used for the films.
A survey showed that 13 percent of international visitors to the country from January to June 2013 say they took in a Hobbit-inspired experience, such as a group tour to film sites or a visit to the fantasy village of Hobbiton. The Hobbit holes that were constructed for use in the movies were left intact by the government as tourist attractions.