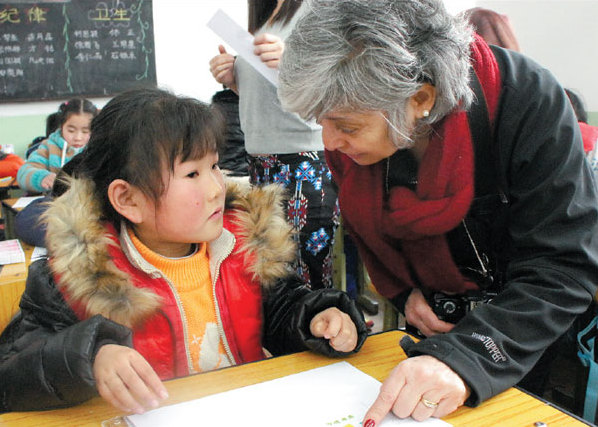 Helen Boyle talks with a pupil at a primary school for migrant children in Beijing. Photos by Belle Taylor / China Daily
The Chinese Dream | Helen Boyle
A British woman in Beijing finds her niche making schools for migrant children better places to learn. Belle Taylor catches up with a dynamo.
It's a Friday afternoon and Helen Boyle is waiting impatiently in a small office at a Beijing primary school for her team of volunteers.
When the helpers troop in - a mix of expatriates and one local university student - she wastes no time in distributing art supplies and breathlessly giving orders. Things are running a little behind schedule and Boyle, not one for tardiness, has no time to let any more precious classroom time slip away.
On this day, Boyle's charity, the Migrant Children's Foundation, is working with three first-grade classes, with children ranging in age from 6 to 9, helping them draw pictures which will be sent to a sister school in the United States, where a class of children have drawn pictures to be sent to China. The volunteers walk around the classroom helping the children with their pictures and telling them the names of what they are drawing in English - kite, family, rainbow, panda.
Boyle goes in and out of the three classrooms, checking that the lesson is progressing smoothly, passing out pencils and giving rapid-fire instructions in English and Chinese.
This is Boyle in her element, doing grassroots work for her charity, the Migrant Children's Foundation.
Boyle has no high-rise office and she spends little time soliciting for money from big donors. Her foundation is focused on volunteering, and driven by her own indomitable work ethic.
"I have been involved in charity in the UK where you just give money, but you don't know where it's going," says Boyle. "I find that here, you can actually see the impact you are having."