Good sleep may boost brain function: Study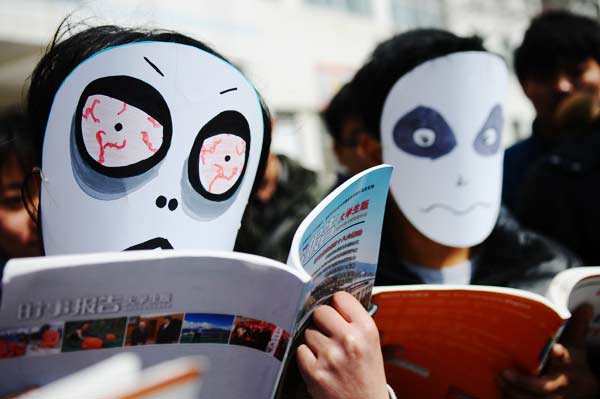 University students promote the significance of good sleep on the campus in Liaocheng,Shandong province. [Photo provided to China Daily]
People who have trouble sleeping tend to have less volume in certain regions of the brain than those without sleep problems, a new study of Persian Gulf War veterans suggests.
"People discount the importance of sleep. So many things seem so much more important than a few extra hours of sleep a night," lead author Linda L. Chao says.
"The study suggests we shouldn't discount sleep importance."
Chao, from the University of California, San Francisco, collaborated with researchers at the Department of Veterans Affairs Medical Center in San Francisco on the study published in the journal Sleep.
Previous research has linked sleep disturbances to structural brain changes, the authors note. In their study, sleep was associated with the amount of gray matter in the brain's frontal lobe in particular.
"There's other corroborating data showing that insomnia and a variety of psychiatric illnesses are reflected in reduced volumes in the brain, which makes sense because sleep and mood are functions of the brain," John Winkelman says.
A psychiatrist, Winkelman is chief of the sleep disorders clinical research program at Massachusetts General Hospital in Boston. He was not involved in the current study.
He describes the frontal lobes as "an essential part of human functioning", necessary for planning, strategizing, mood and affect.
Veterans with post-traumatic stress disorder frequently complain about sleep difficulties, according to Chao and her colleagues. Studies have found high rates of sleep disorders among veterans of America's wars in Iraq and Afghanistan who had head injuries or PTSD.