Tale of a true survivor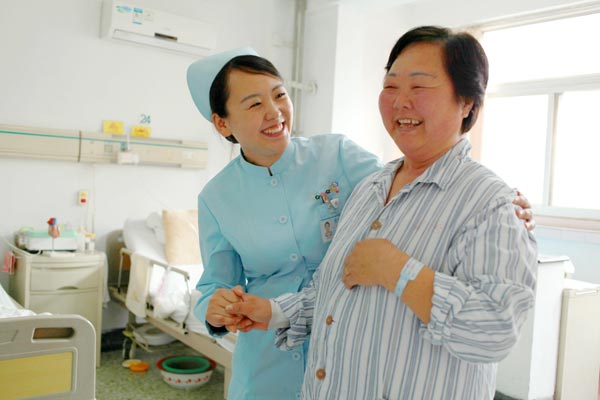 Wang Wei works as a nurse at China Meitan General Hospital in Beijing after graduating from a nursing school. Photos Provided to China Daily
Wang Wei was close to death in 2008, but thanks to a chance encounter with a top doctor, the 26-year-old is now living a life she never dared hope possible. Liu Zhihua reports.
Wang Wei, 26, a nurse with China Meitan General Hospital in Beijing, is a regular guest on television.
Onscreen, she wears a long, thick ponytail and a big smile. Her eyes sparkle with vitality as she tells the audience her life story.
No one would suspect that she was once a cancer patient with little chance of survival.
In 2008, when she appeared on television for the first time, she was at the end stage of thyroid cancer. Doctors said she did not have long to live.
"I was waiting for death. But now, I'm as healthy as anyone else, and doctors say I can have babies if I want," Wang says. "It is like a dream."
Born in Yichun, Heilongjiang province, in 1987, Wang had a happy childhood growing up in an average urban family with three children.
But misfortune struck in 1995 when Wang discovered a pea-sized lump on her neck. Her parents took her to hospital only to be told she had thyroid cancer.
Thyroid cancer originates in the thyroid gland, and is a mild cancer that progresses relatively slowly.
But in the 1990s, treatment of the cancer in China relied largely on removal of the cancer tissues and even the whole thyroid gland. As a young child, Wang needed to keep her thyroid gland so her body would continue to grow.
Wang was 8 years old when the cancer was diagnosed. All she remembers is that she had an operation on her neck not long after the hospital visit and started to take all kinds of medicines.
Her parents didn't tell her what disease she had, and her life continued as usual.
What she did not know was that she didn't have health insurance. All the treatment and medicine she received were paid for out of her families' pockets. Her parents soon spent all their savings, and started borrowing money from relatives.
To make matters worse, in 1997, both of her parents lost their jobs.
To provide for three children and to make ends meet, her parents did all kinds of work, including picking up litter to sell, farming pigs and planting rice.
As the family became poorer and poorer, Wang started to become suspicious about her disease. "I felt different from the rest of the children, because I had to take a lot of medicines all the time," Wang says.
"And all the medicines I took had no labels. My parents had torn them off. They also avoided the topic of cancer, even when watching television."
She was always given the best food, such as meat and eggs, while her parents and sisters didn't eat any meat for months.
In 1998, Wang finally learned the truth. When another lump appeared on her neck, Wang's father told her that she had cancer, assuring her that all was in control and she would be cured.
She also discovered the medication she took were anti-cancer pills, substitute thyroid function medication and nutritional supplements.
At age 16, a checkup showed the cancer had spread, with cancer cells appearing in other parts of the body.
Her parents sold their apartment and took her to the best hospitals in Beijing.
She coughed blood constantly, and her neck was so swollen that she wore scarf or special clothes to hide it from curious eyes.
She underwent painful chemotherapy, which made her throw up and lose all her hair.
"I thought about death, so that I wouldn't cause further pain to my parents and my family," Wang says. "But my parents had done so much for me, and I couldn't just die."
To her family, she was a sweet daughter; to her teachers, an A-plus student who had studied hard despite the cancer; to her doctors, she was an optimistic patient who had postponed death miraculously time and time again.