Dancing through time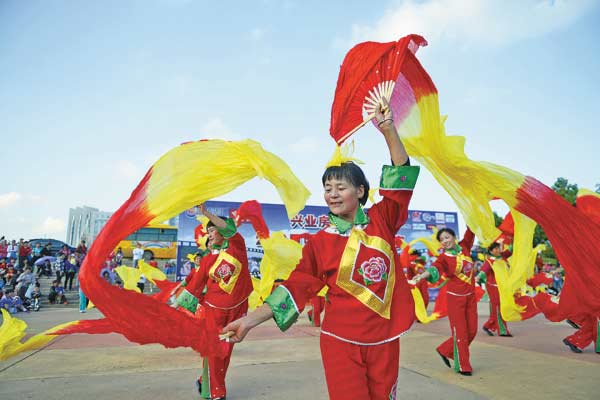 Amateur dancers participate in a square dance competition at the People's Square in Rizhao, Shandong province. Chen Weifeng / for China Daily
Dancing in public squares is common in China when the weather is warm. Sun Ye explores the rich cultural legacies of the traditional dances that have been part of community life for centuries.
With a rattlesnake whip in one hand, use the other to give yourself a tap on the shoulder, then your elbow, wrist, waist, kneecap and instep until you have tapped each joint in your body.
It looks like the perfect stretching exercise. Except you are holding a whip decorated with six little coins that give a jaunty jingle with each "swish".
It's no surprise this dance has become a popular daily sight at People's Park in Dali, Yunnan province.
The routine is not solely for exercise. The rattlesnake dance, a signature dance of the Bai ethnic group in the area, is an emotional expression of culture.
"Listen to the coins, it's how we welcome wealth and happiness. It's our tradition to dance the rattlesnake dance at major festivals and celebrations," explains Yang Zhenyi, 36, who in October led her group of amateur dancers from Yunnan to participate in the Galaxy Awards competition that honors community art in Qingdao, Shandong province.
"The dance at the square we practice daily is easier than the original ones, but it's the same free-spirited and engaging dance that just makes you happier and happier when you tap to the tune," says Yang.
"I've only seen the full set of dances in the village where my grandparents lived, but I love it."
Yang was raised in the city and is a clerk at the local art museum.
Related:
He follows his heart with his feet 
Zhan Lige is a devoted unprofessional. He simply loves his local traditional square dance. His love for the Manchurian Yangko dates back more than three decades, when he was 4 years old and still lived in a village near Fushun, Liaoning province. More...