Beijing cycling tour promotes China Daily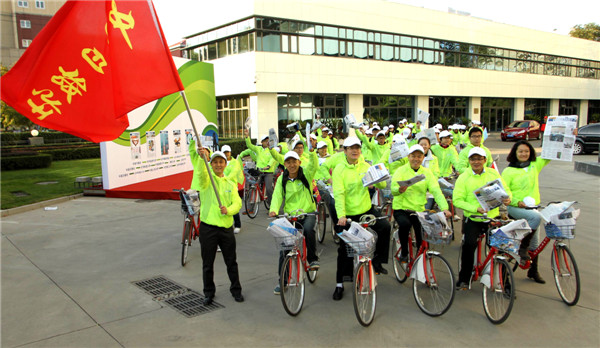 The cycling group starts from the China Daily building. [Photo by China Daily]
On October 24, China Daily successfully wrapped up its China Daily Eco and Educational Cycling Tour, and over 30 college freshmen volunteered to participate in this event.
The Beijing Municipal Committee of Transportation offered over 50 bikes for the tour and all those who participated received an official tour T-shirt, jacket and hat from China Daily.
The tour aims to promote China Daily's new Education edition, which launched on the same day. The education edition focuses on the policy and practice of internationalization of education in China, with brand new columns such as 'Meet President' and 'On campus'.
Before the tour began, the Deputy Editor-in-Chief of China Daily Gao Anming gave a speech at the opening ceremony.
"China Daily's new Education edition is designed to help college students in English language learning," said Gao, "It allows them to access real English from this newspaper and keep up to date with latest happenings around the world."
The cycling group was divided into three teams and made many stops throughout the course at places such as the University of International Business and Economics, Remin University of China, Tsinghua University and Peking University.
The cycling event also provided China Daily with the opportunity to enhance its service to colleges and students in Beijing.