Football futures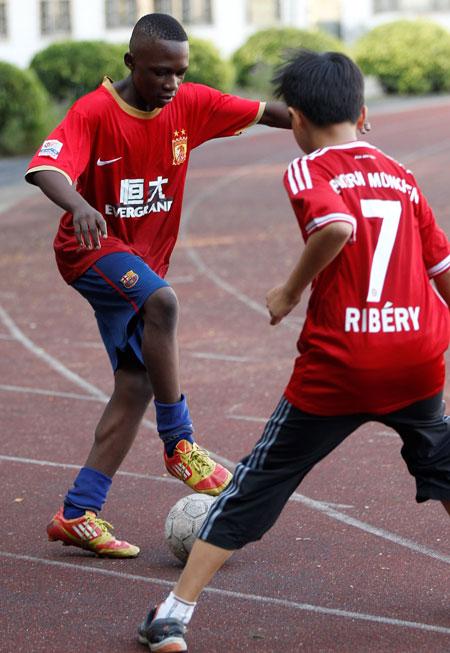 Ngolo Serge plays soccer with one of his Chinese teammates.
Ngolo Serge came to Guangzhou along with his parents in 2009, but when they decided to go home last year, he opted to stay on.
"I can get a better education in Guangzhou. I can learn Chinese and the math here is more difficult," the fifth-grader explains.
"I've made a lot of good friends who also love soccer as I do here in Guangzhou and the community's family service center established a soccer team for us in January."
Soccer helped him get over the initial loneliness and boredom when he first came to Guangzhou and didn't speak Chinese as well as he does now. He used to stay at home killing time with computer games while his parents were out.
The turning point came one day when he went downstairs and saw a group of children playing soccer. He showed them some of his amazing kicks and the other kids agreed at once that he could join their game.
Ngolo Serge looks like a young Mario Balotelli, the Italian soccer star, and in the eyes of his teammates in the Dengfeng youth soccer team, he plays just as well.
"I started playing soccer when I was two years old. Everyone loves soccer in our country. Boys or girls, we all rush to the playground everyday as soon as school is over at 12:30 pm and play soccer until 7:30 pm," Ngolo Serge says.
"We've got more homework here in China and the parents of my Chinese friends usually won't let them out until they finish their homework."
The Congolese boy has won friends not just through his soccer skills. Many appreciate his joyful personality.
Chen Junhan, one of his teammates, says he seldom sees Ngolo Serge get angry and even when he does, he will just sit by the sidelines a while and join the game when he feels better.
"He cares for his friends very much. When I'm upset, he will look at me, make a naughty face and make me laugh," Chen says.
"Honestly, before knowing Xiao Jiang (Ngolo Serge's Chinese nickname), I thought Africa is a scary place with snakes crawling in jungles everywhere. But now I think it is a lovely place where I can meet happy people like him."
Huang Yaocai, a member of the staff at Dengfeng Community Family Service Center, came up with the idea of a soccer team when he saw Chinese and African children playing together happily in the compound.
"Love for soccer goes beyond national boundaries," says Huang, himself a soccer fan.
"I realized that sports is a good platform for Chinese and Africans to communicate and better understand each other."
To help Africans blend into the community, the family service center offers Chinese lessons free of charge and has organized activities such as inviting Chinese residents to teach their African neighbors how to make dumplings.
Bai Yan, lives in the building next to Ngolo Serge's and her elder son is Ngolo Serge's good friend.
"Exaule is a good boy. He is polite and outgoing. I'm happy to see that my son has become much more outgoing after making friends with him," says Bai, adding that her elder son used to be very shy and introverted because the family came to Guangzhou from their hometown in Qinghai province. Her son was cold-shouldered at school because he wasn't able to speak or understand Cantonese, the local dialect.
"I know Exaule is living with his African friend's family. It's difficult for a whole family like us to lead a new life in a city far way from our hometown, let alone an 11-year-old child without his parents' company. So we will take him together with us when we go out to eat or go for an outing," adds the 30-year-old mother.
It is still a long way to go before Ngolo Serge can fulfill his dream of becoming soccer star.
He is fortunate that his father supports him, and has promised to send him to a soccer academy under a professional soccer club.
"I may leave for France or Britain in a month or two and I may need to live without my parents' company there again, but I believe it won't be a problem because of my experience in China," he says.
"I will definitely miss my friends and our soccer team here in Guangzhou," Ngolo Serge adds.
"We share many unforgettable memories and I hope to come back to Guangzhou and play for Evergrande in the future."