Football futures
He's a young African boy alone in a southern Chinese city, but he is not at all lonely. He hopes to have a better future in China as a soccer player, the fifth grader tells Xu Jingxi in Guangzhou.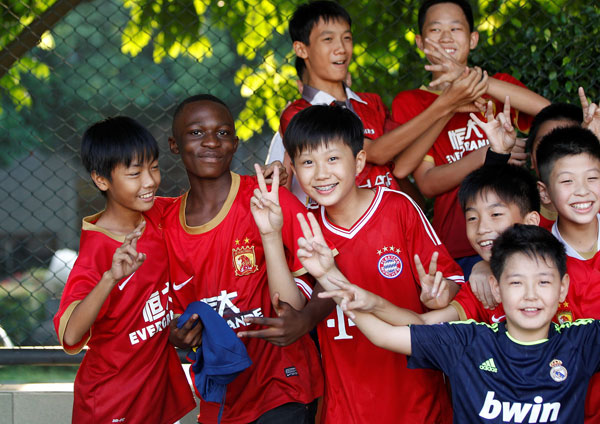 Exaule Ngolo Serge with his Chinese teammates in the Dengfeng youth soccer team in Guangzhou.Photos by Zou Zhongpin / China Daily 
The goal post is made with four plastic water bottles, and the makeshift soccer field is rowdy with a group of children, aged about 11 to 12 years old. Most are sporting the bright red jerseys of Guangzhou Evergrande, the city's soccer team.
In the glowing dusk on a recent Sunday, a young African boy stands out from the crowd. Exaule Ngolo Serge is from the Democratic Republic of Congo, and like his young teammates, he, too, dreams of becoming a professional player in China when he grows up.
But, the young African hopes that it will not be his skin color that attracts attention, but his beautiful passes and swift shots on the pitch.

"People call our living compound here the 'chocolate city'. I don't like the name. It sounds weird to me. Why do people have to stress on our skin tone?" Ngolo Serge complains as we sit talking in the family service center at Dengfeng community in Guangzhou's Yuexiu district.
Dengfeng also happens to have the largest concentration of Africans in the capital of Guangdong province in South China.
In the area's Baohanzhi Street, you can see bustling wholesale markets at the entrance where Africans bargain with Chinese shopkeepers as they buy clothes and electronic products to export to their own countries.
Further down the street, crowds of Africans buy colorful gowns and DVDs of television series and films popular in Africa. Others are congregated around phone booths making calls back home.
Those on a short visit stay in small inns and motels while those planning to stay longer rent apartments from local residents.