Before he moved to Xiamen in 1988, William Brown had already lived in over 30 cities. This American bitten by the travel bug had no intention of staying in Xiamen longer than a year or two and he never imagined he would still be here more than two decades later.
Brown is also Fujian's first official foreign permanent resident.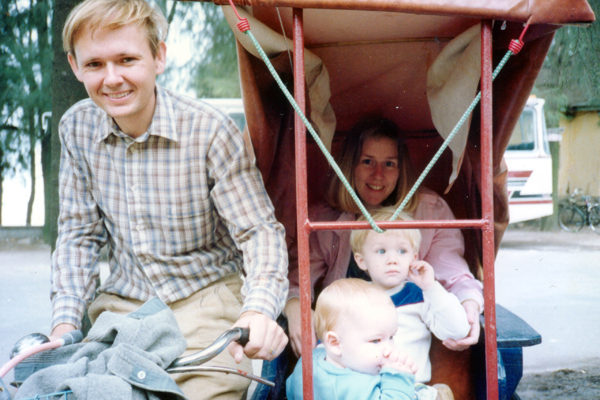 William Brown rides a tricycle with his wife and children in Xiamen in 1988. Photos Provided to China Daily
Now a professor of management at Xiamen University's MBA Center, Brown has taught business studies for graduate students since 1989. He tells us that his bond with China started as far back as 1977, when he was serving with the United States Air Force in Taiwan.
"It was a time of mainland-Taiwan hostility and one day mainland propaganda leaflets dropped onto the air force base. Police warned us not to touch them, which made me only more curious," Brown says.
As Brown secretly looked at some, he was amazed by the photos of happy farmers and tumbling acrobats.
"I've never imagined people on the mainland being real people like people in Taiwan. I thought they were enemies. The photos sparked my interest on the other side of the Taiwan Straits."
After Brown finished his forces career in 1978, he returned home for college and career. The idea of visiting China again lingered, but it took calls from two strangers to draw Brown's attention to Xiamen.
"A guy from Thailand and a man in California phoned me. I didn't know them and they didn't know each other. Both asked me: 'Since you'd like to go to China, have you ever heard of Xiamen,'" Brown recalls.
Brown started to find out more about Xiamen and discovered that in the 1980s, Xiamen University was the only university in China that allowed foreigners to study Chinese while bringing their family members.
Brown thought studying Chinese was the first step, and so he arrived in Xiamen with his family — his wife Susan, an American who was born and raised in Taiwan, and his two sons.