TCM needs greater support in Southeast Asia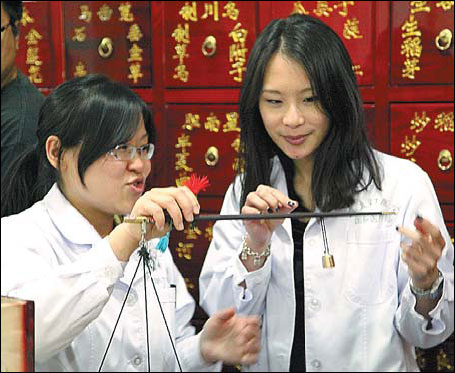 Ambassadors from Southeast Asian countries get a closer look at traditional Chinese medicine during their visit to Dongzhimen Hospital. Provided to China Daily
Acceptance of traditional Chinese medicine (TCM) in Southeast Asia is improving, but its continued success requires more support, experts say.
Wiboon Khusakul, ambassador from Thailand, says TCM is very popular with the Chinese community in his country, but he feels more cooperation between China and Thailand is needed in the field.
Li Xiaoli, director of international student affairs at the Beijing University of Chinese Medicine, says TCM is gaining more acceptance in foreign countries, but mostly at a grassroots level.
"TCM in China is supported by the government, but in foreign countries, including Southeast Asian countries, the practice is mostly performed in private clinics," Li says.
"It is relatively hard for TCM to thrive without support from local government in a foreign land."
On Friday, a group of ambassadors and their spouses from Southeast Asian countries visited the international section of Dongzhimen Hospital, a famous TCM hospital affiliated to Beijing University of Chinese Medicine.
The hospital presented a brief introduction to TCM, and provided TCM consultations, personalized massages, foot baths and tea therapy to the ambassadors.
"The TCM treatment is very good," says Magdalene Teo, the Brunei ambassador to China.
"I had pain in my legs and back, perhaps because I was always on the move. But after the treatment, I felt better."
Erlinda F. Basilio, ambassador from the Republic of the Philippines, says she is glad to have her personalized herbal tea, and will recommend TCM treatment to her friends.
However, many of the diplomats said it was the first time they had experienced TCM treatment, despite having heard or read about it.
Teo says in Brunei only a few practitioners in the private sector provide TCM prescriptions and treatment. She says there is only one large TCM pharmacy in the country.
Malaysian Tou Yingxiang is one of more than 1,000 international students studying TCM at the university.
He has studied TCM for five years in China, and will continue to study for three more years.
Tou says more of his friends have become interested in TCM, especially those with Chinese origins, and he hopes more countries will include TCM in public medical systems.
liuzhihua@chinadaily.com.cn