Lychee Bay's past and present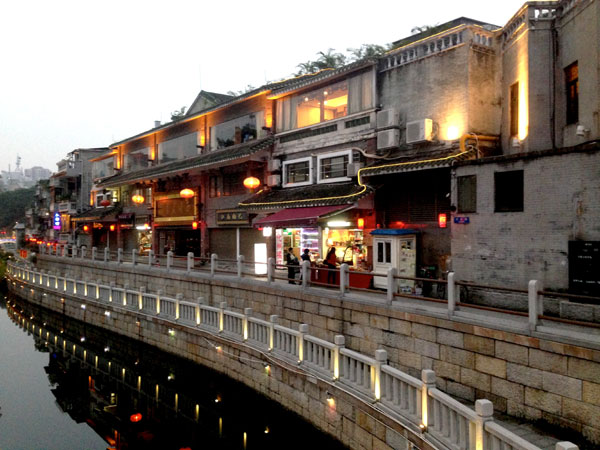 Lychee Bay has been sanitized and modernized, and now attracts tourists and gourmets seeking a taste of the past. [Photo by Pauline D. Loh/China Daily]
It was a historical district in Guangzhou known as the place to go if you wanted elegant female company for a price. Nine decades later, it is better known for nostalgia and food. Pauline D. Loh wanders through the streets of the famous Lizhi Wan.
My grandfather used to say the best food in Guangzhou was in Lychee Bay after midnight.
It was a place of "red lights and green wine", where pretty girls leaned over first floor balustrades trying to catch the eyes of rich young men strolling below. It was a place where decadent pleasures of wine, women and song congregated.
After the physical pleasures were sated, the stomach still needed to be fed.
That was why this area with a river running through it also became known for its tonics, its comfort food and its sweet endings.
Fish intestines cleaned, poached and steamed in savory custard would revive prowess, as would a bowl of steaming hot bamboo-kneaded noodles accompanied by dumplings stuffed with pork and sweet prawns.
All manners of tonic soups steamed gently to extract every atom of flavor and nutrition were served alongside claypot rice topped with minced beef and a coddled egg, or tiny slivers of salted fish added to a silky smooth meat patty.
For a lighter repast, there were egg tarts with flaky crusts and a wobbling custard center, or pieces of water-chestnut pudding either cut into squares or served from little pudding pots.
The influence of nearby dairy-producing Shunde was also felt, and double-skinned milk puddings or gingered milk were available at specialist dessert shops. All were very nourishing and essential for a strong body and good skin.
These sweet shops also sold "little chicken biscuits" made with lard and flavored with fermented red beancurd - savory, crisp and very addictive, good for whiling away stray hours and waiting for the next customer.
These stories I heard when I was just knee-high, had made me imagine Lychee Bay as the Chinese child's version of Willy Wonka's Chocolate Factory, full of delicious treats. I was not yet old enough to fantasize about other pleasures.
It was all oddly familiar when we finally saw Lychee Bay recently.
It is indeed full of red and green, but the colors come from neon lights lining the river and twinkling fairy lights decorating the roadside trees. If the ghosts of those rich young men and pretty ladies of the street still lingered, we did not see them.