Imperial treasures lure natives of Shanghai back to the Bund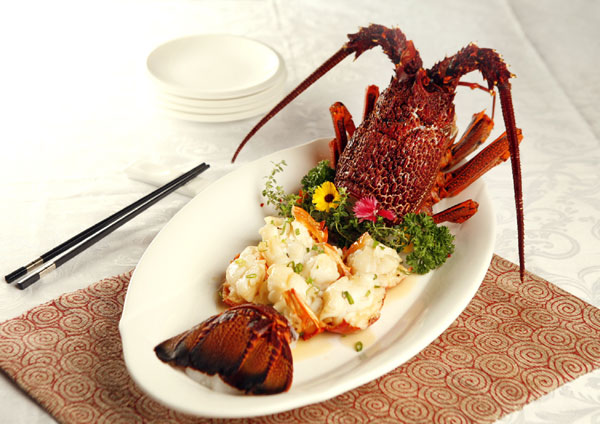 Baked lobster with supreme gravy highlight the menu of Singapore Restaurant Group's new branch in Shanghai.[Photo provided to China Daily]
Iconic Shanghai landmark The Bund is often avoided by the city's locals looking to dine.
Shanghai residents proudly present The Bund as a cultural mix of East and West, an architectural tribute to modern sophistication and the city's rich history, but when it comes to eating, the shrewd natives delve deep into the zigzag paths behind the historic street to seek out restaurants they consider better value for money.
"The restaurants on the Bund don't sell food, but the view, to tourists and rich people," locals tell their visiting relatives and friends, as if passing on a local secret.
But Imperial Treasure, a new addition to the galaxy of fine dining restaurants on the Bund, might be an exception.
The Cantonese restaurant is the first branch opened by the Singapore Restaurant Group outside its own country, and has quickly become one of the favorite dining rooms for Shanghai residents to celebrate special occasions. It not only boasts a grand 2,000-square-meter space, but also offers an exquisite collection of Cantonese dim sum, siew mai and seafood.
The most popular dishes at this restaurant are steamed custard buns and steamed shrimp dumping. The former is nothing special but it is true to its Chinese name - "golden-sand-flowing bun". The bun must be eaten quickly so the "golden sand" doesn't flow all over, on your hand, the plate, even your clothes.
The steamed shrimp dumpling is much easier to handle, but boasts an equally rich filling. Aside from the tender tips of bamboo shoots, the dumping is full of large fresh shrimps.