'Kingdom of Bicycles' rises again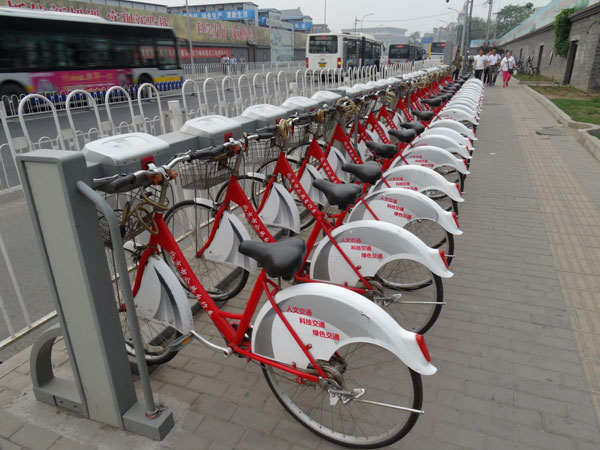 Public rental bikes stand idle in Qianmen, Beijing, June 3, 2013. [Photo/Xinhua]
Yao started to ride public bicycles to work in 2009, when she was on the verge of leaving the city.
"My salary doesn't allow me to rent an apartment downtown where my company office is located. I live in the far north of the city, and it used to take me two hours on a bus to get to the office in the morning, which is very exhausting," she explains.
Two hours would have been long enough for her to travel twice around her small hometown. Then, a friend introduced her to public bicycles. Before that, she had tried riding an electronic bicycle, but it was stolen a month after she bought it.
Now, Yao rides bikes from her home to a bus stop where fewer people are waiting and takes the bus through the less occupied roads. She then gets on another public bicycle to navigate through the busy streets to her office.
"The combination of bus and bicycle saves me more than 40 minutes every day, and I don't have to worry about the bicycle being stolen anymore," she says.
Li from ITDP says she believes in the potential of public bicycles in China.
As most cities are under pressure to curb air pollution, they are more than willing to invest in public bicycle rental services, which has proven effective compared to other public transportation methods and requires much less initial funding, she says.
This is good news to Xu, who travels with his tools to up to 40 service stations every day to fix broken bicycles.
During the national holidays when tourists pour into Hangzhou, he has to repair at least 150 bicycles daily.
But Xu doesn't care about the workload.
"Selling fruits or guarding warehouses isn't what I'm good at. I have been repairing bicycles for more than 30 years. I am glad I can still be busy with the only job I excel at," he says.
Related:
Cash needed to grease wheels of the public bike system
Management steers smooth city cycling