'Kingdom of Bicycles' rises again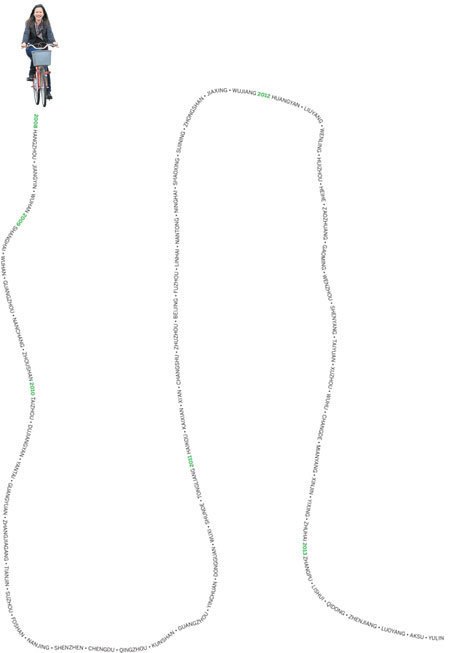 The graphics show the Chinese cities that have launched their public bicycle systems since 2008. Tian Chi / China Daily
China is again switching gears as the once-ubiquitous bike is making a comeback because private car ownership clogs the transport grid, Yan Yiqi, Xu Lin and Xu Jingxi report.
Xu Shima was 16 in 1980 and had to learn a trade. He chose bicycle repair. Over the next two decades, it proved to be a wise decision. At that time, China was known as the "Kingdom of Bicycles" and was home to the world's largest army of cyclists.
In the 1990s, Xu's business was at its peak, "allowing me no time to even pee during working hours", he jokingly recalls.
But in 2000, Xu had to abandon his trade. Bicycles, once a necessary betrothal gift for a bride in China and the dominant means of transportation from Beijing to Xu's hometown of Hangzhou, capital of Zhejiang province, had been squeezed off the streets by electric bicycles and cars.
Xu sold fruits and worked as a factory security guard to make a living. He had little interest in returning to bicycle repair - especially not in the years when people grew wealthy and private car ownership became regarded as a sign of success and a status symbol, while sweaty pedaling started to be seen as pitiful.
Yet the tide has again turned, and in 2009 Xu returned to his trade and now repairs dozens of bicycles a day.
Xu is one of 155 bike mechanics at the Hangzhou Public Bicycle Transportation Development Co and maintains the company's nearly 70,000 public bicycles in the city.
"I'm glad cycling is popular again," says Xu.
Inspired by the public bicycle system in Paris, Hangzhou launched its own project in May 2008. Authorities hoped to ease the city's increasing traffic jams, which have plagued many cities as private car ownership exploded.
Related:
Cash needed to grease wheels of the public bike system
Management steers smooth city cycling