'Kingdom of Bicycles' rises again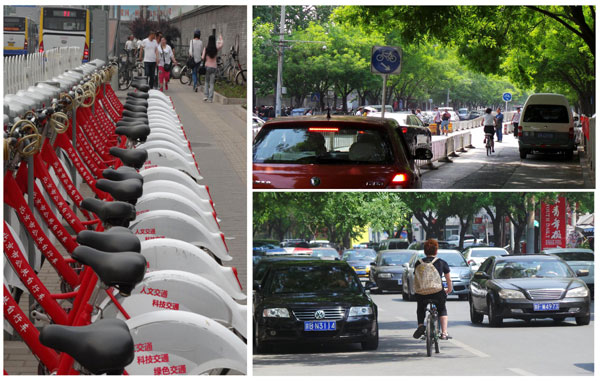 Public rental bikes stand idle along bicycle lanes occupied by cars in Dongcheng district of Beijing, June 3, 2013. There are 14,000 bicycles for rent in the city, and they've been used 700,000 times. More than 20 million people live in Beijing. Public rental bikes have been sitting idle as not enough riders use the service, some using the rental areas to park their own bicycles or electric vehicles. Also, the bicycle lanes are often used by cars, making cycling a dangerous option. Public bike rental service, aimed at providing an alternative, low-carbon transport service to residents, was first tried in Beijing's Dongcheng and Chaoyang districts, which have high traffic flow, and the service was extended to Daxing and Yizhuang districts by the end of 2012. [Photo/Xinhua]
The initial idea was to incorporate public bicycles into the city's public transportation system to cover the "last kilometer". The term refers to distances between two places that can't be covered by bus and are too short to justify taking a cab but too long to walk.
The service has been well received.
"The citizens' enthusiasm toward public bicycles was beyond my expectation, and we can see now that the bicycles travel a much greater distance day-to-day than just the last kilometer," says Zhang Fumin, general manager of Hangzhou Public Bicycle Transportation Development Co. The company manages the city's public bicycles.
Over the past five years, the system has developed to include 697,000 public bicycles and 2,962 service stations around the city, with an average of 257,500 rentals in the city with a population of 8.8 million. The highest rental record is 378,500 times in a day.
In 2011, Hangzhou was named as having one of the world's eight best public bicycle service programs by the British Broadcasting Corp's Travel Channel.
Hangzhou's success is an encouraging example for many other cities in China, which are gripped with problems of heavy traffic and air pollution.
Shanghai, Guangzhou and Wuhan soon followed Hangzhou and introduced their own public bicycle rental services to help tackle the challenge of transporting a growing population across ever-expanding urban areas in a green and effective way.
In 2010 alone, 20 more cities joined the list. So far, 65 cities have launched 73 public bicycle systems (some cities run two systems for varied purposes), the China Office of the Institute for Transportation and Development Policy (ITDP) reports.

"It's natural that people will figure out a solution when the traffic jams and environmental pollution reach a certain point," says Chen Yanyan, a professor at Beijing University of Technology's Transport Research Center.
"Cycling has proven a green and good method for the 'last kilometer'."
Li Shanshan from ITDP's China Office agrees. Li attributes the recent return of cyclists on the streets to pragmatism, which has overridden the lowly social status stigma of cycling.
"Within 5 kilometers, cycling is faster than other public transportation methods," Li says.
"Public bike-sharing systems solve people's problems of finding a parking space when they ride their private bikes and reduces concerns about their bikes being stolen. It's also convenient to fetch and return a bike at any service site across the city."
Hangzhou has set an example.
For Yao Xinfang, riding a bicycle is "cool" in the city of Hangzhou, which has fine weather, bicycle lanes and the picturesque scenery of the West Lake.
The feeling is even "superb" when passing cars stagnant in a traffic jam, adds the 29-year-old Jiangxi native, who has worked in Hangzhou since 2006.
Related:
Cash needed to grease wheels of the public bike system
Management steers smooth city cycling