Warmth and care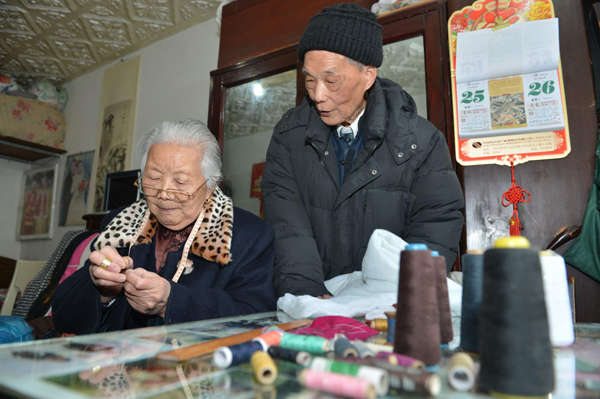 Liu Jie, 91, and his 90-year-old wife Wang Guiying have tailored cotton-padded coats to send to disaster zones over the past 17 years. Wu Ni / China Daily
An elderly couple on a limited income has spent 17 years making coats for disaster survivors, wanting only to help those less fortunate than themselves. Wu Ni reports in Shanghai.
While many Chinese have been deterred from philanthropy by a series of recent scandals, an elderly couple in Shanghai has spent the past 17 years helping those in need in their own way - by tailoring cotton-padded coats to send to disaster zones.
Liu Jie, 91, and his 90-year-old wife Wang Guiying have spent nearly a third of their income and much of their retired life making the coats.
The couple fled their famine-stricken hometown of Xinghua in Jiangsu province in 1946 and settled in Shanghai.

Liu received little education and used to work as a rickshaw-puller and a dock porter, and retired as a factory guard. Wang was a housewife. The couple had seven children scraped by on Liu's slim wage.
Their first coat donation was in October 1996, when media reported that flood victims in Yunnan province urgently needed winter clothes.
A new coat then cost about 100 yuan ($16), which was unaffordable for the couple. Liu's monthly pension was 51 yuan.
"It occurred to us that we can make some with our own hands, which could be more cost-efficient," Liu explains, in his strong northern Jiangsu accent.
Wang learned embroidery when she was 10 and was skilled in making skirts, suits and even cheongsam, a traditional dress also known as a qipao that was popular in the 1930s.
They traveled for 1.5 hours to a cloth market, where they could cheaply buy good material.
"The material should be waterproof and keep warmth in," Wang says.
She made the inner lining identical to the exterior so the coats can be worn inside out.
Wang did the major needlework, and Liu helped sew on buttons and did other chores.
The first batch of six coats cost 300 yuan.
From then on, the couple made coats to donate whenever they heard about a disaster. But they're slowing down in old age - it now takes them about a week to finish a coat - and the cost of raw materials has risen to at least 100 yuan per coat.
For more China Face, here