Circling the globe on 3 wheels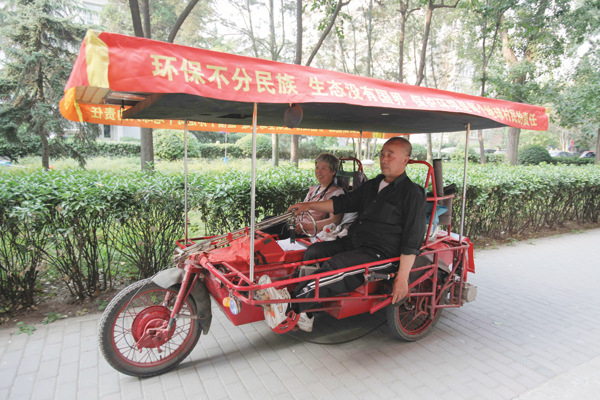 Li Linxiang, 66, and his wife Zhao Yafan, 64, are on a journey to visit 100 countries in five years with their self-made solar electric tricycle. Below: The vehicle can be converted to a tent. Wang Jing / China Daily
Two pensioners plan to visit 100 countries on a tour of the world in their homemade tricycle. Tang Zhe reports they are inspiring their fellow elderly.
It is a dream for many people to travel around the world, but few do so and their excuses are legion: "I don't have much money", "I can't speak foreign languages", or "I have no time to travel due to work".
Meanwhile, a retired couple from Shenyang, Liaoning province, has shown that those are excuses and all you need is an unfettered heart to put yourself on the road.

Li Linxiang, 66, and Zhao Yafan, 64, are on a journey to visit 100 countries in five years with their self-made solar electric tricycle. They will ride the whole route except for two voyages, across the Atlantic and Pacific oceans.
Having set off from Shenyang on May 25, the couple will leave China from Xinjiang Uygur autonomous region, travel to Kazakhstan, cross the Middle East and spend the winter in Ethiopia.
They will enter Europe via Turkey in spring, go to North Africa in December 2014, head south and cross the Atlantic Ocean to Argentina. Then ride north to the United States and Canada, before taking a ship from Los Angeles to Japan. They will return to China after visiting the Republic of Korea and Democratic People's Republic of Korea.
Ahead of the worldwide tour, the couple finished a two-year tour of China in 2006 and a one-year visit to six countries in Southeast Asia in 2012.
Their travel fever springs from Li's move to the business development section of a factory in the 1980s, when he had to take business trips around the country.
"I have gone to two-thirds of China's cities thanks to my job," Li says. "When I returned home I always talked about what I saw with her (wife Zhao), such as the beauty of Hangzhou and the fast development of Shenzhen."