Hard work secures future for Beijinger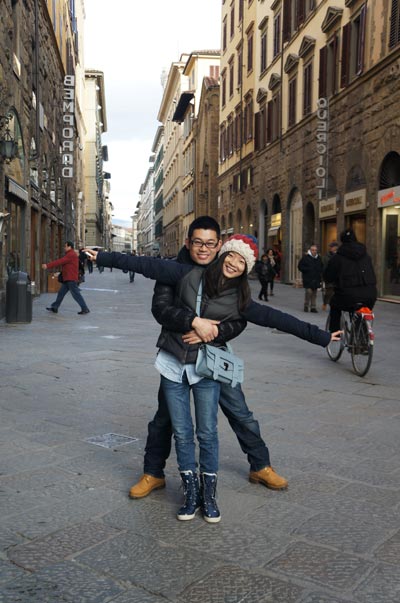 Wei Dongjian his fiancee Wu Yuanping pose at the street of Florence during their Europe trip early this year.Photo provided to China Daily
Spending seven days a week in the office is just one sacrifice young Chinese are willing to make to get a foot on the property ladder. Tiffany Tan reports.
Wei Dongjian doesn't look like a man who works nonstop. From his easy smile, relaxed posture and animated speech, you'd never guess he has been working almost every day this year.
Wei, 30, is business development manager at a Beijing interior design firm, part of an industry that has benefited from the Chinese capital's housing market boom.
Like your average Beijing employee, Wei receives a monthly salary of 6,000 yuan ($980). Through commissions, he can more than double his take-home pay to 14,000 yuan, so he chooses to work seven-day weeks during their peak business season. That's from January to May each year.
The rest of the time, he takes one day off a week. He doesn't mind, since he moved from his native Shandong province to Beijing in 2005 specifically to become his own man.
"I don't think about being tired," Wei says in an interview at home one Sunday morning, between answering work-related phone calls and text messages. "Since my basic salary isn't much, I need to work hard to earn more."
Wei used to splurge on clothes and shoes from his favorite brands G-Star, Zara, Timberland and Diesel. Now, like many Chinese men preparing for marriage, his priority has shifted to saving money to buy an apartment, maybe even a car.
For 3,000 yuan a month, he's currently renting a cheerful one-bedroom apartment outside Beijing's East Fourth Ring Road which he shares with his fiancee. To get around, he cycles, takes a bus or hops on the subway.
But Wei is fortunate to have a girlfriend and future in-laws who aren't demanding a home, jewelry or a bulging bank account as a condition to marriage.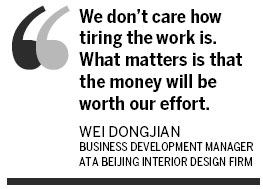 "When a woman gets engaged, it's usually a ceremonious affair. The man's family is asked to bring betrothal gifts," his fiancee Wu Yuanping, 25, says from her perch in the living room, in front of the couple's desktop computer.
"My dad didn't want anything. He said: 'Don't even bother with an engagement party. You guys don't have the money to spend.'"
From the cost of housing and food to the occasional travel, the couple spends 7,000-10,000 yuan a month. Everything else goes into their savings account.
But if there's one thing that his wife-to-be wants, it's that they move to Guangzhou in the next few years. There they will be closer to her parents in Guangxi Zhuang autonomous region, who can help take care of their future child.
She also wants to go back south where the climate is milder, and where she can escape Beijing's notorious smog.
Wei and Wu plan to open a clothing shop once they're in Guangzhou.
Ultimately, won't moving to Guangzhou mean escaping Beijing's rat race? A life where they can properly spend weekends together?
"We don't care how tiring the work is," Wu says. "What matters is that the money will be worth our effort."
Wei couldn't agree more, even if it means continuing to live without days off.