Sailing through life on a dreamboat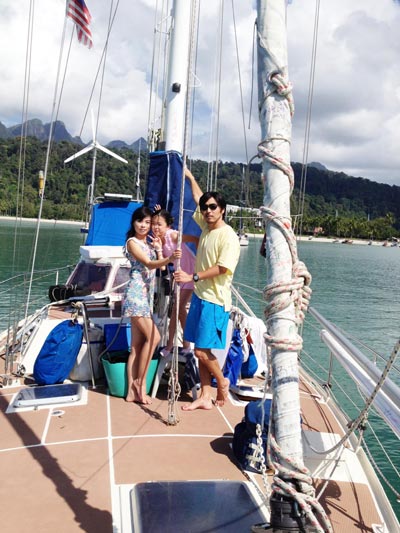 Zhai Feng and his wife quit their jobs, pulled their daughter out of school, and sold their house and car to buy a yacht and live on the high seas. Provided to China Daily
After years of working in the local railway system, 35-year-old civil servant Zhai Feng thought it was time for a break.
So, he sold his house, quit his job and bought a yacht.
His wife also left her job and their daughter dropped out of school to join him on the high seas. The family set out in November from Langkawi, Malaysia.
"The sacrifices are worth the freedom," Zhai says in an online chat.
"I have nothing to lose and nothing to be angry about now that I'm barely connected to the chains of my onshore life."
While most people would envy the stable and well-paid job he gave up in the railway bureau of Shandong's provincial capital Jinan, Zhai thought of it as drudgery.
"Every day is the same routine," he says.
Zhai has been a travel enthusiast since his youth. He drove tens of thousands of kilometers to Thailand after exploring Nepal by motorcycle.
"I hardly have any savings," he says.
"All my money has been spent on the road."
But the more he travels, the itchier his feet feel, he says.
"When I return from a trip, I feel even more restless than when I left," he says.
"After seeing so many amazing things on the road, you just can't go back and accept a normal life. Endless work is gobbling up our lives, and urbanites have gotten used to this."