Retail therapy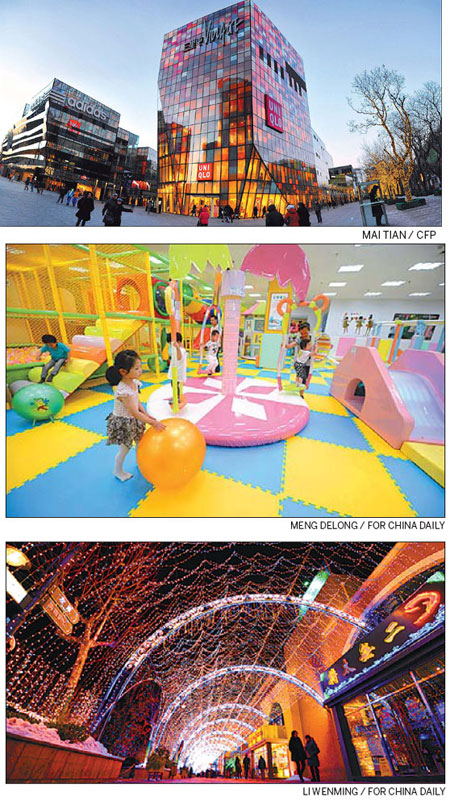 From top: Sanlitun Village is a landmark of Beijing's CBD. Childcare centers attract children and their parents to mega shopping malls. Solana Lifestyle Shopping Park is another mega shopping mall in Beijing.[Photo/China Daily]
Shopping malls used to be the place people go to shop. But today, these commercial complexes are often much more than that. Gan Tian tracks the lifestyle changes.
Liu Sun, a 16-year-old student, is in the midst of preparing for his final examinations. The 28-year-old single woman Xie Hong meets up with her "BFFs", or "best friends forever" whenever she is free. Wang Yuandong, 35, is a devoted mother of a young daughter and 37-year-old public relation director Zhao Xun has to bring in new accounts at this time of the year. And after working all his life, 63-year-old retiree Sun Jianguo now spends his time playing chess, feeding birds and looking after some plants.
Although the five individuals are total strangers, live in different parts of Beijing and have different lifestyles, their paths cross at Beijing's Sanlitun Village - a dynamic shopping mall, which has turned into a landmark in the city's CBD.
Student Liu Sun decided to take a break to watch the latest blockbuster Lost In Thailand at the cinema in the basement of the shopping mall.
"It costs me less than 30 yuan ($4.80) for a student ticket," he says.
Xie is with her four BFFs at Element Fresh restaurant, enjoying a brunch set. "This makes me feel like a scene out of Sex and the City. We do this every weekend," she says with a smile.
Wang is there because her daughter can play at the McDonald's indoor playground.
"My husband and I bring her here frequently, especially during summer. There is also a fountain at the outdoor plaza, where a lot of kids at her age meet and play together," she says.
"It has become our weekend routine."
Businessman Zhao is at Sanlitun Village to meet a client at a boutique hotel a five-minute walk away, while senior citizen Sun, who lives in an old compound nearby, enjoys strolling inside the mall because "it is too cold outside".
Unlike department stores one to two decades ago, shopping complexes in China are evolving like malls globally: They are no longer just a place for shopping. They are turning into lifestyle complexes, where different people can meet their every need, almost.
Nearly all the giant shopping malls in the country's first- and second-tier cities are equipped with cinemas, childcare areas, restaurants, and experience centers from different labels.
Parkview Green Fangcaodi, which opened in Beijing's CBD last month, attracts the city's trendiest people not only with its various top international brands, but also a boutique hotel, various artworks and giant installments from young artists.
To connect the neighborhood, the real estate developer built an indoor bridge linking two gates that lead to different directions.
As the biggest indoor bridge in Asia, it has become an attraction in itself, enticing nearby residents to take after-dinner strolls on it.
"In this mixed-use space, we provide a one-stop center for office workers to enjoy the convenience of a supermarket, a cinema and an interesting mix of restaurants after work," says Leo Hwang, the mall's executive director. "We constantly innovate to create spaces where consumers go to, not only to shop for what they want, but also to appreciate culture, art, a great variety of cuisine and entertainment - all in one place."
Jonathan Zhu, CEO of real estate developer Shayne, agrees.