School's in for first overseas campus
By Luo Wangshu in Chongqing, Cao Yin in Beijing and Wang Hongyi in Shanghai | China Daily | Updated: 2013-06-17 17:02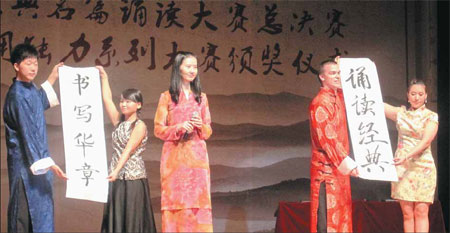 Malaysian student Bong Meen Szer (center) takes part in calligraphy contest at Xiamen University. She welcomed the college's plan to open a campus in Kuala Lumpur, capital of Malaysia. Provided to China Daily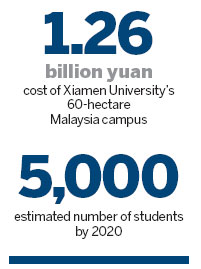 Cross-border expansion signifies China's growing clout and rising world interest in country, report Luo Wangshu in Chongqing, Cao Yin in Beijing and Wang Hongyi in Shanghai.
Loke Pui Yan has been studying for her master's degree at Xiamen University in Fujian province since the autumn.
The campus, which is along a beach, is a sight to behold. It is scattered with elegant historical buildings, enjoys pleasant weather and ocean breezes, and almost, but not quite, erases any feelings Loke has of culture shock and homesickness.
Although the 29-year-old Malaysian has enjoyed her studies and her stay in China, she was thrilled to learn that the college is ready to establish a campus in her homeland.
Xiamen University will be the first Chinese college to open a campus abroad to showcase its ideas and culture, improve China's image in the world and enhance relations with other countries.
Unlike Western universities, which have flocked to China, the country has come late to the party.
Now it is trying to play catch-up and ride the globalization of the education business.
Over the past decades, a large number of overseas universities have come to China to set up joint institutions and exchange programs. The Ministry of Education put the number of joint projects now at about 1,500, including Shanghai New York University, Wenzhou Kean University and Kunshan Duke University.
But the number of Chinese higher education institutes going out and establishing cooperation with overseas education bodies is small, although the Chinese government is supporting the internationalization of higher education to spread influence in the world, a process known as soft diplomacy.
Zhang Xiuqin, director of international cooperation and exchanges at the Ministry of Education, said China will support and help eligible universities to go out and globalize.
Xiamen University announced in February it will be the first one to take the step. And in May, Zhejiang University, one of the nation's top-five colleges, said it will also build a campus in London. It also has signed a Memorandum of Understanding for furthering academic collaboration with London University's Imperial College.