Foreign universities' graduation ceremonies in Beijing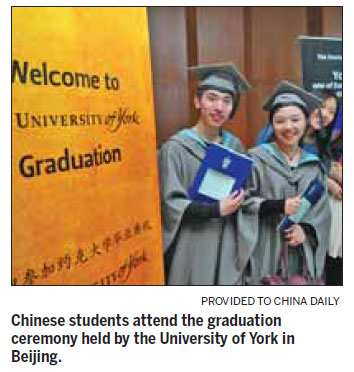 Wang Jinjing planned to start her career in China after finishing her masters degree at the University of Bristol in the United Kingdom in 2012.
She finished her thesis in September, but the university's graduation ceremony was scheduled for February, 2013.
"I decided to return to China in October, because it is the best season for job hunting," she says.
The 24-year-old was soon offered a job in Zhongguancun in Beijing.
"But I kept thinking about flying back to England and attending my graduation ceremony," she says. "It was one of the most important moments in my life."
For Chinese students who complete their higher education overseas, a graduation ceremony is something they all look forward to, but not every student is lucky enough to attend.
"Most universities, especially those in the UK and Australia hold their graduation ceremonies three or four months after we finish all the exams and thesis," says Yang Qiyu, a 29-year-old woman who graduated from the University of Sydney in 2009.
"For us who are looking for a career back in China, many return early and miss the ceremony to find a job."
As the number of Chinese students studying overseas is increasing, many universities in the UK and Australia are coming to China to hold a graduation ceremony especially for their Chinese students.
The University of Sydney held a ceremony for its Chinese graduates in Beijing for the first time in 2005 in the Great Hall of People. Since then, the university has organized a team of academics to travel to China every year and give its Chinese graduates a grand ceremony and seek research collaborations with education institutes in China.
On April 20, 2013, a graduation ceremony for Chinese graduates of the University of Bristol was held in Beijing.
It was great news for Wang and her classmates.
This is the first time the university held such a ceremony in China. Wang attended it with her uncle and aunt, who are also living in Beijing.
"We recognize many of our Chinese students need to go home before the graduation ceremonies in Bristol. Therefore, we thought it could be a nice idea to hold the ceremony here in Beijing, which will enable our students to go through the whole graduation process," says Eric Thomas, vice-chancellor of the University of Bristol.
The university had 230 Chinese graduates in Beijing, with more than 700 people attending the celebration.
Each graduate is allowed to bring two or three guests to witness the ceremony. Most students brought both of their parents to celebrate the big moment.
During the ceremony, the vice-chancellor announced each of the graduates' names onstage. Students stepped onto the stage and received their graduation certificate from him.
Just like the graduation ceremony in Bristol, a photographer is on hand, taking pictures of every student's big moment.
Besides the ceremony, the university is also seeking academic collaborations with universities in China.
Yang Wei, former president of Zhejiang University, was presented with an honorary degree during the ceremony, for his achievements in higher education and engineering research in China.